Helen Glover
Sport / Event >
Rowing (womens pair, with Heather Stanning)
Date and Place of Birth >
17 June 1986, Truro, UK
Height > 178cm
Weight > 70kg
Biography >
All-rounder Helen grew up in Penzance in a sporty family and from an early age was involved in sport.
At the age of 14 she was playing hockey for the England satellite squad, captaining her county team and also playing tennis and swimming for her county.
After being selected to run for England, Helen continued her love of sport by commencing a degree in Sport and Exercise science at the University of Wales.
Helen started rowing in 2008 through the UK Talent Team (UK Sport and English Institute of Sport) Sporting Giants scheme and was placed on to the GB Rowing Team's Start programme, sponsored by Siemens, in Bath and coached by GB Rowing"s Paul Stannard.
Prior to this she had absolutely no experience with rowing.
Rowing world championship medallists Helen Glover and Victoria Thornley became the first athletes discovered through Talent ID programme Sporting Giants to be selected to represent Team GB at the London 2012 Olympics.
Launched by five-time Olympic rowing champion Sir Steve Redgrave in 2007, the first UK Sport and English Institute of Sport (EIS) Talent ID campaign sought tall and talented athletes with the potential to compete at the 2012 Olympic Games in the sports of rowing, handball and volleyball.
Glover and Thornley, neither of whom had set foot in a rowing boat prior to Sporting Giants, were confirmed as members of the 48-strong rowing squad by the British Olympic Association in Windsor.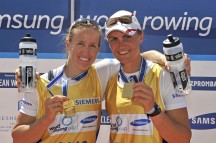 Having both won medals at world championship and world cup level over the past four years, most recently with Glover and crewmate Heather Stanning claiming gold medals at both of the World Cup events so far in 2012, both are strong medal prospects for London 2012.
Speaking about the Sporting Giants process, former hockey player Helen Glover said: "They tested 4,500 of us in groups of 200 at a time. I remember sitting in a room in Bisham Abbey and someone saying: 'A gold medallist in 2012 could be sat in this room. Look around you.' I thought: 'Right, I'm going to make that me.' It was quite surreal."
Headline Result >
Gold, women's pair, Belgrade & Lucerne World Cup,  May 2012
GB Rowing Team Profile >