Chinese School pupils meet their national Olympic swimming team

Children from a Chinese school got to meet some of their sporting heroes when they watched a training session with Olympic swimmers from their national team at the University of Bath today (Friday 6 July)
Pupils from the Suzhou Foreign Language School in the city of Suzhou near Shanghai have been attending St Gregory's School in Bath and staying with local families since April.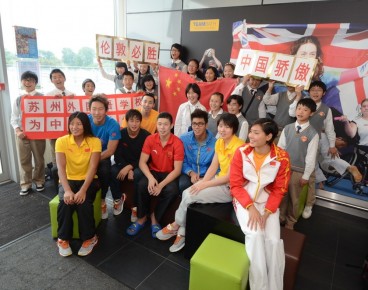 When they found out the Chinese swimming team were training in Bath they asked if they could come along to meet the swimmers to wish them the best of luck for the Games.
The Chinese Olympic swimming team are currently making their final preparations for the London 2012 Olympic Games at the University of Bath.
They are among a dozen nations holding training camps at the University in the lead-up to the Olympic and Paralympic Games.
In preparation, the 18 children aged between 11 and 13 made signs saying 'Best wishes – win in London' and 'Come on! From the Suzhou Foreign Language School'.
After watching the end of a training session they met up with some of the swimmers and took the opportunity to ask them a few questions and take some photos.
Suzhou Foreign Language School pupil Felix Ding, said: "It was very exciting to meet the Olympic Chinese swimming team today. It has been great to come over to England and stay in Bath. The level of studying here is very good and it has been really enjoyable to live with such fun home-stay families."
Jiao Liuyang, silver medallist in the 200m butterfly at the Beijing 2008 Olympic Games and gold medallist at the 2011 World Championships, was among the swimmers the children met.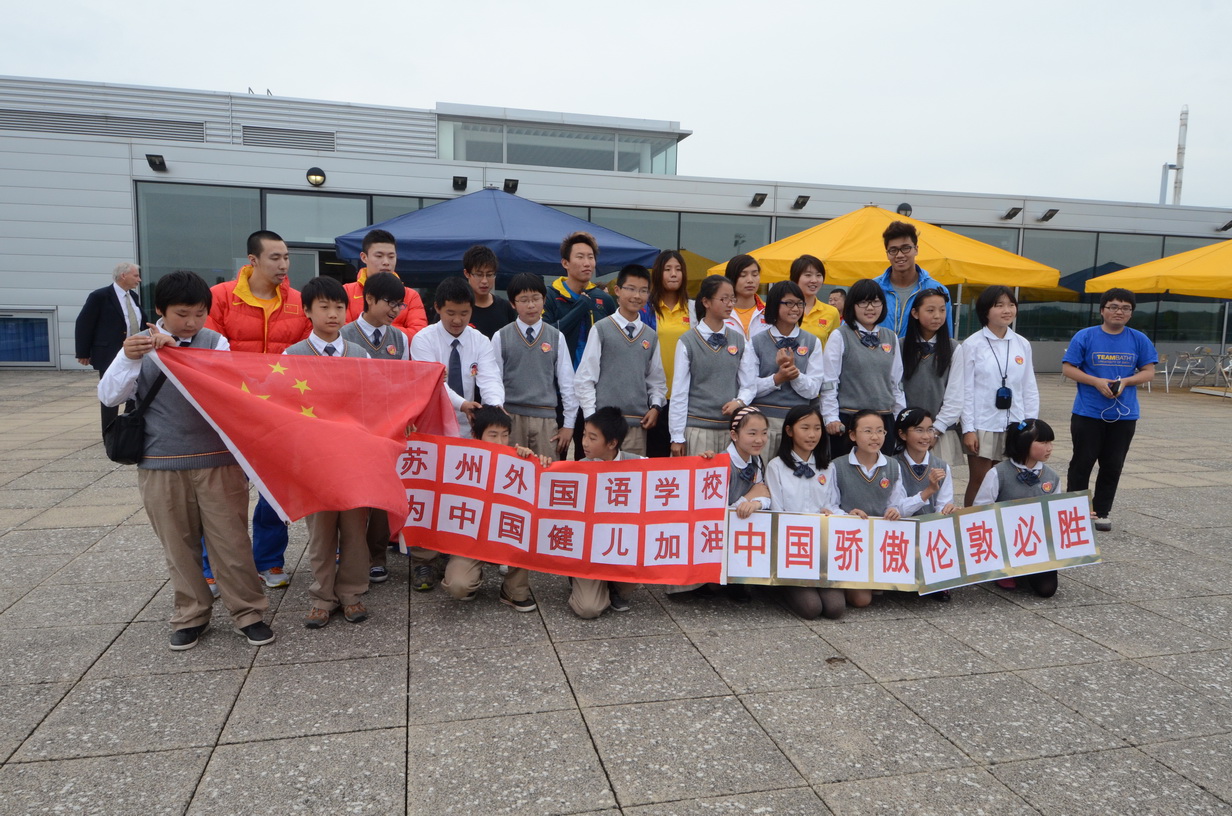 She said: "The facilities here are top notch and we're very much enjoying it here. I would like to get a medal and I'll try my best."
Suzhou Foreign Language School has links with eight schools in Bath and North East Somerset through the Bath-Suzhou Education Partnership. During their stay they also got to attend the Queen's Diamond Jubilee celebrations in London.
University of Bath Higher Education Advice Manager Doris Bechstein, said: "It has been fantastic to host our Chinese students for the last few months. When the pupils heard that their national Olympic swimming team would be training here at the University of Bath, they were desperate to come and meet them and give them their best wishes so it has been great we have been able to arrange this.
"My thanks go out to the Chinese swimming team and their management for being so welcoming, the children have been so excited all day and it was clear to see what it meant to them."
As well as hosting the Chinese swimming team's final Olympic preparations, the University of Bath will be the training base for the Russian athletics team and Malaysian badminton. It will also host the ParalympicsGB main preparation camp in the lead-up to 2012. Libya, St Vincent & the Grenadines and Iceland are also among the nations whose athletes are training at Bath ahead of London 2012.
ENDS