Football
Sport/Event >
Futsal, position: goalkeeper
Date and Place of Birth >
1989, UK
Biography >
Philip is from St. Albans in Hertfordshire, he has played football from a very early age and played football for St. Albans City Youth from the age of 7-17, aswell as playing for London Colney FC Midweek team, and extensively for his school Verulam School.  At the age of 17 Phil began to play for a variety of local Amateur and Semi Professional...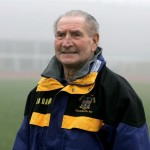 Title >
President of TeamBath FC and Assistant Coach
Date and Place of Birth >
1916, South Wales
Athletes Coached >
TeamBath Football Club
Biography >
Ivor was the seventh son of a seventh son, he started his working life down the mines and was spotted by Queen's Park Rangers playing for South Wales League side Bargoed aged 17.
Worked as an RAF physical trainer during the Second World...
Sport/Event >
Futsal; position: Flanker
Date and Place of Birth >
1989, UK
Biography >
Alex started playing football at the age of six, but is new to futsal and enjoying the new challenge of adapting his game.
Currently studying a degree in Mechanical Engineering at the University of Bath.
Date and Place of Birth >
1979, Bristol, UK.
Athletes Coached >
Academy footballers include:
Tyler Sibbick, Johnny Oliver, Nathan Loader,
Biography >
Former professional footballer with Bristol City, Yeovil Town and Weymouth FC as well as a former Academy coach at Bristol City FC.
Matt holds the UEFA 'A' Coaching Licence and is a qualified FA Tutor, NVQ assessor and internal verifier.
He...
Sport/Event >
Futsal, position:  pivot
Date and Place of Birth >
1988, UK
Biography >
Joe is in his 1st year on the BA course Coach Education and Sports Development. Joe was picked out at the trials and has become a regular started for the reserve team.
Joe's main strength is providing an anchor role in the heart of the defence.
Joe has improved vastly during his 1st season and is working at every opportunity to break into the 1st team.
TeamBath The...
1
Team Bath's football programme combines expert coaching in an inspirational setting with opportunities to study to degree level. We also offer recreational football and host high-quality training camps.

Catch up on all the latest football news, features, events and reports here.

The University of Bath Football Club has a proud tradition of success and participation. The Club is split down into three sections: mens, womens and Futsal.