Our Facilities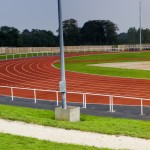 On a compact site we have a range of top-class facilities:
An array of outdoor competition and training pitches
Hydrotherapy and Sauna
Café and meeting rooms
The Sports Training Village was opened as recently as 2004 and is capable of hosting more than 50 sports. It attracts more than a million visitors each year.
We have further facilities nearby at the Founders Hall, which is less than 200m away from the Founders Hall, and also at the Sulis Club, which is about a mile away from the main University campus.
Our facilities are fully accessible to people with disabilities.

Flexibility
We can adapt our sports halls to a variety of uses for a number of different sports.  Top teams and individuals train here every day and we are flexible to their needs as well as to those of the public.
1.3 million people use and enjoy our facilities every year on average.
Our modern and flexible facilities can be used to host a range of sports as well as non-sporting activities, such as exhibitions, corporate events and conferences. We have an indoor 2000-seat spectator arena that regularly hosts televised events.
Our brand new gym and fitness suite, features 102 stations with some of the best facilities around. There are 57 new pieces of cardiovascular equipment include a dozen treadmills, 11 cross-trainers and 10 rowing machines.

The Team Bath Arena is a flexible, light and airy facility in an inspirational environment that can cater for a range of events, both sporting and non-sporting; concerts, awards ceremonies, conferences, corporate events, exhibitions and much, much more.

Fully open to the public, we have a team of highly-qualified therapists and practitioners that offer cutting edge services whether you are an elite athlete, a fun-runner or simply recovering from a recent injury or accident.