Football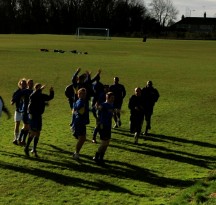 The University of Bath's Claverton campus features eight grassed football pitches, including the fully floodlit infield pitch at the Sports Training Village.
There is a further pitch at the Sulis Club, just a mile away from the main campus, along with five junior pitches.
There are also two artificial pitches at the Sports Training Village that can be used for football.
Futsal is played at the Founders Hall.
The Founders' Hall is conveniently located within 200m of the Sports Training Village and is also close to catering outlets, shops and accommodation on the University of Bath's Claverton campus.
It is a multi-use sports hall with a sprung wood floor.
Book facilities
Grass pitches
To book the grass pitches please contact James Howard at j.n.howard@bath.ac.uk or call 01225 383690.
Founders Hall
To book the Founders Hall please contact Catherine Evans at adscw@bath.ac.uk or call 01225 384016.
Team Bath's football programme combines expert coaching in an inspirational setting with opportunities to study to degree level. We also offer recreational football and host high-quality training camps.

Catch up on all the latest football news, features, events and reports here.

We offer a range of competitive gym, studio classes, athletics, tennis, swimming and GOLD membership packages to help you achieve your fitness goals in a uniquely inspirational setting.