Physio & Sport Science
A highly-qualified team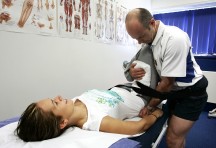 Fully open to the public and staff and students of the University, we have a team of highly-qualified therapists and practitioners that offer cutting edge services whether you are an elite athlete, a fun-runner or simply recovering from a recent injury or accident.
Choose Your Service and
Book an Appointment
For further information or to make an appointment please call 01225 383636, fax 01225 385220
or
email physio@teambath.com
Sports Injury Clinic & Human Performance Centre
Department of Sports Development & Recreation
University of Bath
Claverton Down
Bath
BA2 7AY
Whatever your issue or goal you have come to the right place.  We can offer:
We can get results for:
Aches and pains? Recent injury or accident? Our team will get to the root of your problem and get you on the road to recovery. We don't just treat – we solve.

If you want to get fitter, stronger or are serious about living a healthier lifestyle come and see our team. We offer scientific backing for better training and lifestyle.

Our service is extremely flexible, multi-discipline and will be designed entirely around your needs and unique situation. We can provide in house or on location services on a regular or one of event basis.