Corporate Services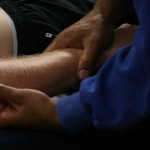 Contact us to discuss
If you are interested in finding out more about our Corporate Services options or to discuss your ideas further please email Claire Lane, Sports Scientist or call her on 01225 385161.
A flexible service designed with you in mind
Our service is extremely flexible, multi-discipline and will be designed entirely around your needs and unique situation.
We can provide in house or on location services on a regular or one of event basis.
We can also provide educational sessions as well as practical delivery.
Some examples of service that we provide are as follows:
Healthy Lifestyles
Educational sessions based around exercise and subsequent exercise nutrition to keep you in top shape (or working towards it…!)
Health and Fitness Assessment
We'll measure your status in terms of cardiac risk factors (including blood pressure, weight, waist to hip ratio, blood glucose, lung function) whilst also assessing your fitness using a sub-maximal exercise bike test.
Postural Screenings
Back, neck and shoulder problems are commonly caused by postural issues, often related to the way in which we sit and move in the work place. Everyone's body is constructed differently and works in different ways, however with some simple principles in mind, many problems can be cured and avoided in the first place.
You'll benefit from an individual assessment of various postural related factors and get advice as to how to go about improving posture, cure niggling problems and maintaining a good physical base through simple exercises.
Our team of Physiotherapists provides a full range of services including both sporting and non-sporting injury treatment, injury prevention and functional education in a number of areas.

Nagging aches and pains? Recent injury or accident? Our team will get to the root of your problem and get you on the road to recovery. We don't just treat – we solve.

Do you know what to eat and when? We can help you balance dietary intake with the demands of your training, helping you achieve peak performance when it matters most.