Physiotherapy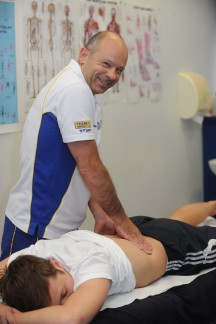 Book an appointment
Contact > Physiotherapy or call 01225 383636
Our team of Physiotherapists provides a full range of services including both sporting and non-sporting injury treatment, injury prevention and functional education in a number of areas.
Physiotherapy treatment and support options are wide ranging, your therapist will advise you as to the best route to take and the reasons behind it.
Meet the team
Barry Edwards – Head Physiotherapist
In the Sports Injury Clinic itself, we have a wide range of leading Physiotherapy and Massage products available. Our services are delivered at competitive prices and our physiotherapists are registered with all major insurance providers.

If you are registered with a health care insurer then we can take the administrative strain whilst you concentrate on getting back to your best. Contact the Sports Injury Clinic reception for further details.

Our team of Sports Massage therapists can help you prepare to train or compete at your very best, as well as easing the aches and pains of everyday life.