Futsal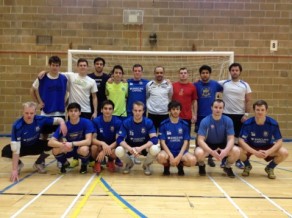 Team Bath Futsal Club was founded in February 2008 when the University held open trials over two days that saw over 50 players turn out.
After the two days a squad was developed of around 18 players that began to train ready to enter the newly formed FA Regional Midlands League. The highest level of Futsal in England.
What is Futsal? [PDF]
Futsal Player statistics 28 April 2013 [PDF]
News
Match Report Futsal > FA National Futsal Super League (Group C) Sunday 28 April 2013
Match Report Futsal > FA National Futsal Super League (Group C) Sunday 21 April 2013
Six Team Bath players were called up for (16/17 March) weekends International Friendly between England and Wales. They took on the Wales Futsal National team at the Point4 in Hereford.
Team Bath Futsal Club have recently won the FA Futsal National League Midlands Conference and they will be back in action this April against the winners of the Northern and Southern National Leagues.
Team Bath Futsal Club play their matches in the Founders Hall so keep an eye out during April and come down and support the team and your university as they will be fighting it out to be crowned Champions of England, with the winner going on to be the English representatives in Europe next season in the UEFA Futsal Cup.
Match Report Futsal > FA National Futsal Super League (Group C)
Brilliant fight back by the Romans prevent Boro going home with all three points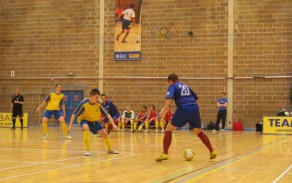 Match Report Futsal > BUCS Championship Quarter Final Win
UOB Men's 1st leave it late to reach a fifth BUCS Championship semi final in five years!
Match Report Futsal > Team Bath win Midlands League Title
Team Bath win Midlands League Title for first time in its' six year history!
Team Bath has broken the record for most international call-ups from a British futsal club at one time after five of their players were selected for UEFA European Championship qualifying matches.
Read more…
Futsal's fantastic five set for European Championship qualifiers
21 January 2013
Youth Training Sessions
All Youth Training this season is taking place at Ralph Allen School, Bath. It will run on Mondays during term time only from 5pm-6pm. It costs £3 per player and new players are welcome.
If you are interested in attending and would like more information feel free to email Richard the coach at richardhorlock@hotmail.co.uk
Read about >
University of Bath Futsal team competing at the European Championships
Read the full European Futsal Championships match report for a breakdown of all the matches.
Fixtures & Results
Futsal Fixture List 2012-2013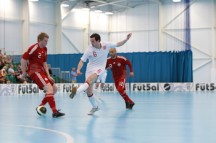 Contact Sion Kitson for away match information.
FA.com fixtures and results web page
Training Times 2012-2013
u16s – Mondays 5pm-6pm (Ralph Allen School)
u18s – Monday Night League (Ralph Allen School)
Women – Monday Evening (TBC)
2nds / 3rds – Sundays 5pm-6pm (FH) / Monday Night League (Ralph Allen School)
1sts – Tuesdays 7.30am-9am (FH) & 7pm-8pm (FH) / Thursdays 7.30am-9am (FH)
Contacts
1st Team Contacts – Lee Jones (laj24@bath.ac.uk) / Sion Kitson (ed3spk@bath.ac.uk)
2nd/3rd Team Contact – Marcus Herron (mh545@bath.ac.uk)
Youth Contact – Richard Horlock (richardhorlock@hotmail.com)
The Club
The Club has a number of teams competing at various levels from National Standard to recreational level at the University.
The Club has one team in the FA Regional League.
Another three teams competing in the Somerset County League.
It also has links to the University Intramural Futsal competition where over 200 players compete each year.
The Club also has a women's team who play locally and nationally.
The Club welcomes all new players male and female – to register information or learn about more on Futsal contact Sion Kitson (player/coach) on 07956 511846.

Team Bath Training and Development deliver high quality vocational training courses in health, fitness and lifestyle in an inspirational setting with leading Team Bath practitioners.

Catch up on all the latest Futsal news, features, events and match reports here.

From merchandise and memberships to training - the Team Bath Store has it all. Buy online now!