Gymnastics & Trampolining
Rhythmic gymnastics
Team Bath holds regular training sessions for City of Bath Rhythmic Gymnastics Club, and is proud to be supporting and hosting a full time training programme for the Great Britain Senior Rhythmic Group.
They made history at the London 2012 Olympics.
Georgina Cassar, Jade Faulkner, Frankie Fox, Lynne Hutchison, Louisa Pouli and Rachel Smith became the first GB rhythmic gymnastics group to compete at an Olympic Games, with Cassar becoming Gibraltar's first Olympian.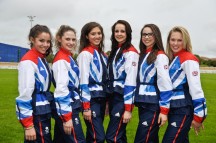 Coach Sarah Moon explained the group had already achieved their medal by getting to the Games.
The group produced two beautiful performances to the delight of the crowd at the Wembley Arena and inspiring future generations of rhythmic gymnasts.
Our Team Bath support services team provided the group with strength and conditioning and nutrition back-up.
Gymnastics contacts
For further information email Matchtight Ltd.
studentgymnastics@lists.bath.ac.uk
Trampolining training camps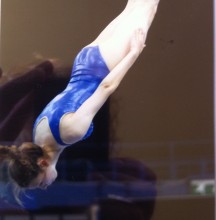 Britain's world class trampoline gymnastics squad regularly hold training camps at the University of Bath's Sports Training Village as they gear up towards the November 2011 World Championships which is the qualifying event for the Olympic Games.
Athletes training in Bath include world cup medal winner Emma Smith as well as the synchro pair of Bryony Page and Laura Gallagher, who is from Cheddar.
Team Bath also has links with Team Bath Evolution trampolining who have regular sessions at the Sports Training Village.
Trampolining contacts
If you are interested in finding out more about trampolining for fun, fitness or competition please email the Tribe team.
University Trampolining Club >