Coaching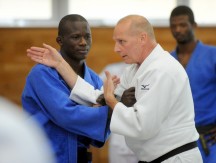 Dedicated to achieving goals
Team Bath judo is dedicated to helping players to achieve their goals, whatever their level.
Team Bath's coaching programme is headed up by Head Coach Juergen Klinger, a 6th Dan judo player and former Assistant National Coach of the German Judo Federation. Among the athletes he coached before coming to Bath, were Franck Wieneke, who condemned Britain's Neil Adams to silver at the 1984 Olympic Games.
Juergen has been coaching judo since 1979 and joined Team Bath in 2006.
We also host a British Judo England Excel centre for Talent Development, and offer our own Team Bath Futures talent development programme.
Team Bath Tribe meanwhile provides the perfect introduction to the sport for children and young people as well as the opportunity to have a go and improve their skills.
Where better to gain qualifications for the health, sport and fitness industry than from one of the nation's top sporting environments?

The University of Bath Judo club is one of the most pioneering and inclusive clubs on campus. There are three full time coaches to work with all levels of player.

Athletes at all levels benefit from good coaching. View the biographies of the coaches who are based at the University of Bath.