Coaching
Team Bath has an experienced coaching team led by Jess Thirlby. As one of England's leading coaches she helps players to reach their full potential at Bath.
The work of the coaches is backed by expert support through the University of Bath's Sports Injury Clinic and Human Performance Centre and the English Institute of Sport.
The coaching team
Team Bath's coaching team works at all levels from schools to elite international athletes..
The team is led by Jess Thirlby as head coach but also includes Denise Ellis, Emily Perry, Leanne Lewis and Kerrie Easey.
The coaching team works alongside England Netball's development office in the South West which is also based at the University of Bath.
Coaching clinics
We hold regular coaching forums for new and experienced coaches alike.
The sessions are run by Team Bath head coach Jess Thirlby and Team Bath assistant coach Denise Ellis alongside guest speakers.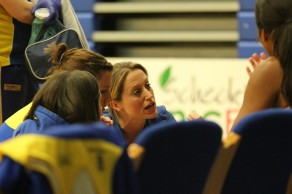 Defensive Clinic
Date:                Wednesday 3rd July 2013
Time:               18.30-21.30
Location:         The Sports Training Village, University of Bath, BA2 7AY
Cost:                £25 inclusive of course materials
Tutors:             Billy Bowers and Denise Ellis
Transition Clinic
Date:                Monday 8th July 2013
Time:               18.30-21.30
Location:         The Sports Training Village, University of Bath, BA2 7AY
Cost:                £25 inclusive of course materials
Tutors:             Emily Perry and Denise Ellis
For more information on the clincs please open the flyers for the Defensive Clinic [DOC] and Transitions Clinic [DOC].
To book onto the clinics please open, fill out and return the Coaching Clinic Booking Form [PDF] .
Hear what others have to say about our previous forums:
Can I just take this opportunity to say how much I enjoyed the Course and the hints and tips I received during the Course from Jess and Denise have helped me immensely and I have since been able to put this into practice with a very positive outcome which is just fantastic for me personally in my Coaching. I travelled quite a distance to attend the Workshop but would have no hesitation in coming down your way again to experience a Team Bath Coaching Workshop. Lisa Packer, University of Sussex Head Coach.
The Team Bath Apprentice Coaches
Team Bath are pleased to announce a joint initiative with Netball South West for a partially funded coach development programme starting in September 2012.
Over a period of 36 months, coaches will be assigned a mentor and participate in a series of interactive, workshops with written tasks set around the course content. The course fees stand at £600 per coach per year.
2012 Intake:
Learning outcomes:
To help develop the next generation of Team Bath Superleague and NTL coaches to work with elite players at regional excel level and above.
To provide the opportunity for emerging coaches to develop their skills and knowledge required to work in elite netball.
To provide a unique coaching and learning environment to prepare coaches to work at the elite level.
Course expectations and pre-requisites:
Coaches expected to work alongside current NSL and NTLA coaches and with any Team Bath development groups at training sessions and matches.
Applicants will be expected to attend all modules and SL, NTL and Region Excel events as directed
Applicants will be required to submit a coaching log at the end of each year outlining their own personal development including an academic written report.
If you think you have what it takes for 2013, please email Denise Ellis for an informal talk!
Brush up on your netball skills with one of our netball camps for children in years 7, 8 and 9!

Do you want one of our NSL players to run a coaching session at your school or club?

Find all of the up to date fixtures and results from our NSL, NTL, Premier and University teams