Gold Rush
2012 was a massive sporting year for Great Britain as it hosted the Olympic and Paraympic Games for the first time in most of our lifetimes.
Team Bath hosted a series of celebrations in the build-up to the Games at the Sports Training Village, where people had the opportunity to try out a new sporting challenge and find out more about our contribution to the global sporting extravaganza.
These were organised in conjunction with the Gold Challenge, which is the UK's first Olympic and Paralympic sport-based charity challenge and is part of the London 2012 legacy programme.
If you have been inspired by watching your sports idols compete at London 2012, there is a world of opportunity at Team Bath:
For fitness contact: teambath-memberships@bath.ac.uk
For swimming contact: M.A.A.Skimming@bath.ac.uk
For children's sports courses contact: tribe@bath.ac.uk
For school visits contact: tribe@bath.ac.uk
Gold Rush Open Day

Egyptian badminton player Hadia Hosny El Said, who trained and studied at the University of Bath, set more than 100 people off to take part in the annual Olympic Day run at the Sports Training Village on Saturday 23 June's Olympic Day Run, just weeks before she headed off to London to compete at her second successive Olympic Games.
Corporate Charity Challenge
Friday 27 April ­ our Corporate Charity Challenge marked three months until the Games.
Many teams entered into this unique one-day sporting challenge at the Sports Training Village.
All proceeds went to the British Paralympic Association (charity number 802385) to help the British team prepare for and compete at the Paralympic Games.
Staff Gold Rush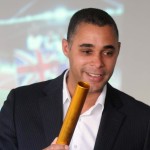 University staff took advantage of a free offer to try new sporting activities at the Sports Training Village on Friday 27 January's opening Gold Rush event of the year.
The Staff Gold Rush was held to celebrate six months to go to the London 2012 Olympic Games Opening Ceremony.
Staff Gold Rush marks six months to 2012 Olympics
Staff Gold Rush video
Olympic Day – Staff Gold Rush 27 January 2012
Swimming at Team Bath ranges from learn-to-swim sessions, recreational swimming and performance swimming – all in the inspirational setting of our 50m pool.

Fully open to the public, we have a team of highly-qualified therapists and practitioners that offer cutting edge services whether you are an elite athlete, a fun-runner or simply recovering from a recent injury or accident.

What better way to get in shape than to join one of our group exercise classes? New 2012 timetable now available.