Fitness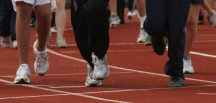 By this age many young people will be competing in local clubs.
We have launched a new strength, conditioning and fitness service to support their core development.
We can work with individuals, groups, clubs, squads or teams to improve fitness and sport-specific as well as generic strength and conditioning to prevent injury and improve the chances of success.
Contact
Team Bath Tots offers sport for children aged two to seven. We have a range of fun activities including football, tennis and trampolining. Your children can play in the same standard of facilities that are used by our stars. We believe in inspiring the next generation.

We offer regular weekly Tribe classes throughout the school terms providing participation and development courses in a safe and inspiring environment in various sports.

Our sport-specific holiday sessions offer children the chance to try out a sport or develop their sporting skills at the University of Bath's inspirational sports facilities. The sessions are fun-packed and progressive.