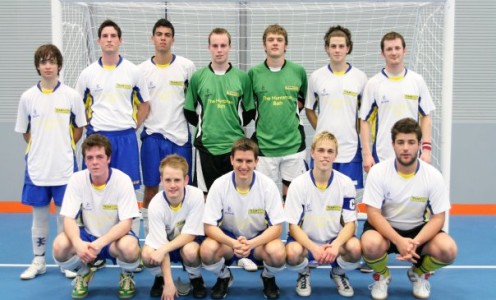 The Team Bath Futsal side went down 6-2 in a friendly against the full England Futsal side in Hereford.
Team Bath went a couple of goals down early on, but then Ian Parkes got on the end of a Dave Jennings pull back to put the University of Bath side back in the game at 2-1. Parkes scored with his second attempt after his first effort was blocked.
Team Bath were on top for the remainder of the first half but couldn't convert their chances into goals.
England scored again twice in the second half before TeamBath added to their tally through keeper Lee Jones to make it 4-2 with nine minutes to go.
Team Bath kept the pressure on at the death, but England broke away to score two quick goals to take the final score to 6-2. The game was played out in front of a crowd of 400.
George Carney, Football Development Manager at British Universities and Colleges Sport (BUCS) said: "By competing against such high profile opposition Team Bath has shown the potential that Futsal has in universities. Being able to compete against an international side showcases the progress that TeamBath has made in developing their Futsal programme."
Sion Kitson, coach of Team Bath, said: "'The whole event was a great experience for our players who competed well on the night and put a good display in front of a sell-out crowd. It was privilege for the team to line up alongside the England Futsal team and I like to think we posed them a few problems during the game.
"As a University we are working hard to develop Futsal specific players to compete at a local and national level and this match was a reward for all the efforts that the players have put in over the last 18 months.
"We clearly see the benefits Futsal has brought from a technical and tactical perspective to the players. The learning experience each one has gained from this match will hopefully see further developments over the coming months to improve the team."
The Team Bath team was: Joe Dibben (GK), Dave Jennings (c), Sion Kitson, Neil Carpenter, Ian Parkes, Fynn Scheben, Adam Humphreys, Roberto Ciaschi, Sean Landau, Jose Lima, Mark Ingram, Lee Jones (GK)
Team Bath Futsal Club are sponsored by The Huntsman in Bath and Detica.
The University of Bath finished as runners-up in the final of this year's BUCS Futsal Championships in Sheffield.
Futsal is the version of five-a-side football supported by FIFA.
For further details about TeamBath Futsal please click here.
The University of Bath has one of the leading university sports departments in the UK. Under its TeamBath brand, its success is based on the expertise and dedication of staff, and its excellent facilities, used by the community and Olympic medal winners alike.
Members of the media who require further information can contact the TeamBath Press Office at Matchtight Ltd on (01225) 383518 or 01225 443998 or see the TeamBath website at www.teambath.com
Photos by Rhiannon Kitson
Posted: Friday 5 June 2009