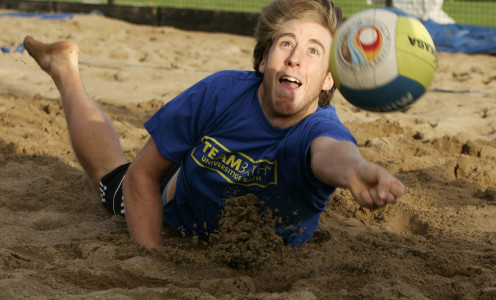 The thrills and spills of beach volleyball will be on display when the sport makes its debut at the 2010 British Beach Polo Championships at Sandbanks Beach in Poole.
Players from Team Bath will feature in an exhibition match with an international flavour, the Sandbanks Slam, which will take place at the championships on Friday 9th and Saturday 10th July.
Both days of the championships will feature action from the Team Bath partnering Oakley exhibition event.
Team Bath is the collective name for the family of sport, leisure and health-related activities at the University of Bath.
The University is home to some of the country's top athletes. Team Bath's beach volleyball players have dominated recent British Tour events, and have also won international recognition competing at World Under-21 and European Under-23 Championships. The University of Bath is also hosts British Volleyball's beach volleyball programme.
The partnership with Oakley to arrange the exhibition match came out of Oakley's support for Team Bath's Athlete of the Month Award, which recognises the achievements of athletes across a wide range of sports.
Details of the players competing in the exhibition match will be announced nearer to the date, so check the British Beach Polo Championships website for further details.
Simone Lewis, director of volleyball at the University of Bath, said: "We're pleased to have the opportunity to take part in the championships and to show people just what exciting sport beach volleyball is."
For further information about TeamBath please go to www.teambath.com <http://www.teambath.com>  and for further information about the British Beach Polo Championships, please visit the event website at www.sandpolo.com