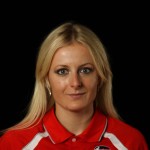 Sport / Event: Fencing, foil
Place of Birth: Gdansk, Poland
Biography:
Natalia Sheppard graduated from the University of Bath with a BSc (Hons) degree in Mathematics and Computing in 2006.
Born in Poland, she made her Olympic debut at the London 2012 Games, representing Great Britain in fencing.
Natalia said: "I am so thrilled and proud at my selection for Team GB at the London 2012 Olympic Games.
"This has only been made possible with the support of my coach Maciej Wojtkowiak and the strong back up team that now exists. Since the appointment of Alex Newton as Performance Manager women's foil squad has gone from strength to strength enabling us to outperform our world ranking, as we have continued defeating world top eight ranked teams.
"Qualification is only the start of what we are aiming to achieve this summer and we look forward to showing the rest of the world just how far we have come."
Natalia to fence at London 2012 – press release
Headline Result:
23rd – Foil – European Championships, Sheffield, UK – 2011
Beazley British Fencing profile: Natalia Sheppard