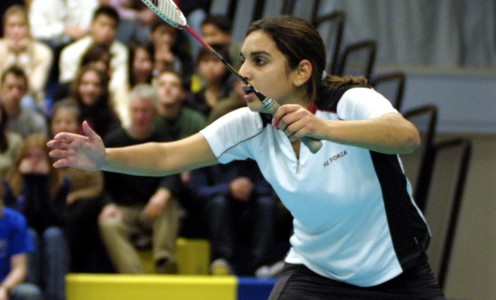 England's badminton team spent time honing their Commonwealth Games preparations at the University of Bath Sports Training Village.
The 10-strong team held a training camp at the Sports Training Village ahead of their trip to Delhi for the Games.
Three members of the team were on particularly familiar territory – Mariana Agathangelou (pictured), Carl Baxter and Heather Olver are all University of Bath graduates and are set to make their Commonwealth Games debuts in Delhi.
Pete Bush, head badminton coach at the University of Bath, said: "It's been fabulous to have the England team here and have the opportunity to watch them train. It's particularly gratifying to see three players who trained here for so long in the England team for Delhi. "
Andy Wood, head coach of England's badminton team, said: "It's been excellent for us to come to Bath, where the facilities are so great and to have a change of scenery ahead of one of our major events of the year."
The University of Bath has one of the leading university sports departments in the UK. Under its TeamBath brand, its success is based on the expertise and dedication of staff, and its excellent facilities, used by the community and Olympic medal winners alike.
Members of the media who require further information can contact the TeamBath Press Office at Matchtight Ltd on (01225) 383518 or 01225 443998 or see the TeamBath website at www.teambath.com