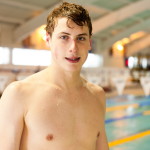 Event: Butterfly, individual medley and freestyle and men's relay
Date and Place of Birth: 21 November, Isle of Man
Occupation: Student
Course: BSc (hons) Economics
Biography:
Tom began an economics degree here at the University of Bath, where he also trains, in 2013.
A promising young swimmer, he took part in the 2011 Commonwealth Youth Games, held on the Isle of Man. The event was an important home games for Tom, who raced in the men's 50m, 100m and 200m freestyle competitions.
In 2014, he was selected to represent his home island again, this time at the Commonwealth Games in Glasgow.
Career Highlights:
Selected to represent Isle of Man at the 2014 Commonwealth Games, in Glasgow
Represented Isle of Man at 2011 Commonwealth Youth Games, in the Isle of Man