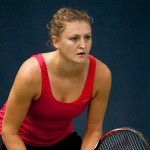 Sport: Tennis
Date and Place of Birth: 1987, Cheshire, UK
Coached by: Dave Sammel
Biography:
Samantha was the first Team Bath player to achieve a place in the world's top 200.
She transferred to train at the University of Bath in September 2010 after graduating from Northwestern University in Illinois, saying: "it's a really good place and it's worked well for me."
Samantha has competed at Wimbledon twice, including in 2014 when she faced Maria Sharapova, and has climbed almost 200 WTA rankings places since moving her training base to the University.
She is Coached by Dave Sammel, Head Coach at Team Bath MCTA.
Samantha Murray ITF Profile: Samantha Murray