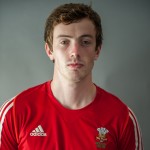 Sport: Hockey
Position: Defender
Date and Place of Birth: 17 December 1990, Shrewsbury, UK
Height: 6ft
Weight: 84kg
Coached by: Jody Paul
Date Arrived at Team Bath: September 2009
Course of Study: Mechanical Engineering
Length of Course: 4 years
Clubs: Team Bath Buccs, University of Bath
Representational honours:
Wales Under 16, under 18, under 21 and full senior side
Biography:
Mechanical Engineering student Ben has been a key part of the University and Team Bath Buccaneers sides since he arrived here in 2009.
He was part of the Welsh men's team that won silver at the EuroHockey Nations Trophy in 2010.
The defender was inspired to take up the sport by his brother who was a keen player and started playing hockey in the school playground.
He is also the Under 16 Team Bath Buccaneers Head Coach.
Career highlights:
Selected to represent Wales at Commonwealth Games, Glasgow, June 2014