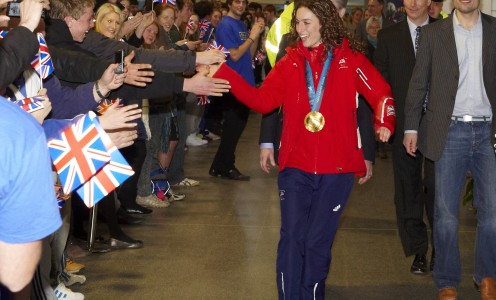 Bath's golden girl Amy Williams carved out a slice of history a year ago tomorrow (19 February) by striking skeleton gold at the Vancouver 2010 Olympic Winter Games.
Her stunning performances produced not only Team GB's only medal of the Games but also made Amy Britain's first individual Olympic Winter Games gold medallist for 30 years and the first individual woman gold medallist for 58 years.
After completing the second half of the 2010/11 Skeleton World Cup season, Amy is now back at her University of Bath training base gearing up her campaign for next season en route to her goal of achieving another medal at the Sochi Games in 2014.
But the University of Bath Sports Performance graduate isn't taking anything for granted.
"Our sport is getting more and more competitive every year and there are a lot of good young British girls coming through," she said.
"I know I'll have to work at the same level of intensity for the next three years as I did before Vancouver, if not harder.
"It's so scary to think it's a year ago, it's flown by," added Amy, whose Olympic races were held over two days on 18 and 19 February, before she was presented with her gold medal at a ceremony on 20 February.
Amy said her achievement really sunk in when she saw crowds lining the streets of Bath to welcome her home as she toured the city on an open top bus before a champagne reception at the University.
"There were a lot of people at the Olympics who had won medals," she said. "What I had done really hit me when I saw the welcome back to Bath and the reaction of people there."
An MBE followed and she was also made an Honorary Freeman of the City of Bath, while invitations to the Royal Box at Wimbledon and Royal Ascot followed, as did appearances on the Jonathan Ross Show, Top Gear and A Question of Sport.
Stephen Baddeley, Director of Sport at the University of Bath, said: "Amy Williams' achievement in Vancouver was magnificent. She worked hard to win her gold medal and she has proved a fantastic role model and a terrific ambassador for her sport, the University of Bath and for the city of Bath."
Bryn Vaile, President of British Skeleton, added: "Amy's achievement was fantastic not just for her, but also for British Skeleton and British sport.
"It was the result of a programme that has been developed over the last eight years. From talent selection to technology, this programme has been driven with the same determination that has seen British success in summer sports like cycling, rowing and sailing. It was down to the dedication of a whole team."
For further information please contact the TeamBath press office at Matchtight Ltd at press@matchtight.co.uk