Sport/Event >
Tennis
Date and Place of Birth >
1991, Swindon, UK
Course of Study >
Sports Performance
Biography >
Louise collected Athlete of the Month award for March 2011 following what she declared was the best month of her career to date.
Louise returned to the top-20 in the world after winning the women's singles title at the North East tournament in Sunderland and finishing runner-up at the Biel-Benn Indoors tournament in Switzerland.
Louise then smashed through her previous bests to earn career high world singles and doubles rankings after completing back-to-back tournaments in South Africa, with her women's singles world ranking breaking the world top 20 barrier for the very first time.
The 21-year-old first year Sports Performance  student from Wanborough, Wiltshire, has earned a career high singles ranking of No 18 after reaching the final of both the Border Open in East London and last week's South African Open in Johannesburg.  Hunt was also a finalist in the women's doubles at both tournaments and has risen to No 23 in this week's women's doubles rankings published by the International Tennis Federation.
"My mum printed off the new rankings before she left to pick me up at the airport and showed me the list when she met me on Tuesday.  I was stunned, I'm just so pleased," said Hunt.
"I knew I would go up in the rankings but to get inside the world's top 20 is brilliant.  Ali Ward, my coach, rang me and said 'is that the world No 18 and it was great."
Hunt started her two weeks of NEC Wheelchair Tennis Tour events in South Africa with four back-to-back matches against South African players, easing through her opening two matches at the ITF 3 Series Border Open in East London with few problems before beating fourth seed Rose van Der Meer 6-3, 6-4.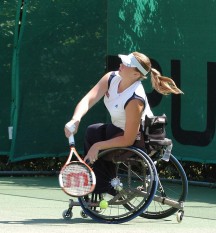 Hunt met South African No 1 Kgothatso Montjane in the final, which got through one set before rain took the players off court for the rest of the day.  Hunt and Montaigne resumed the contest early the following morning so that it could be completed before they caught flights on to Johannesburg, with top seed Montjane prevailing 6-3, 6-4.
Hunt and Cambridgeshire's Laura Coteman were the only two non-South African players at the South African Open last week and the two Britons met in the first round, with Hunt again making a comfortable start.
Once again her biggest test before the final came in the semi-finals, but second seed Hunt improved upon a slow start to beat fourth seed Celia du Toit 7-6(4), 6-1, but with Montjane awaiting her in the final, Hunt again had to settle for runners-up honours after the South African won the ITF 2 Series event with a 6-1 6-1 victory.
"I went to No 28 after the Border Open, so have now improved my world ranking bests for the last two weeks," said Hunt, who continues to cement her position as the British No. 3.
"I played really well the first week and thought I coped well with the split final over two days, but we wanted to get it played.  The second week I don't think I played so well, but I think that had something to do with the altitude as we were a long way above sea level in Johannesburg, but as it was an ITF 2 reaching the final has event given me big world ranking points."
While Montjane thwarted Hunt's bid for both singles titles in South Africa, the South African No 1 was also on the opposite side of the net in both doubles finals as Hunt and Coteman justified second seeding to again collect runners-up honours.
Headline Result >
Singles ranking of No 18 – reaching the final of both the Border Open in East London and South African Open in Johannesburg – 2012
Tennis Foundation Profile >
Photo: Louise Hunt in action (Ben Queenborough/Tennis Foundation)