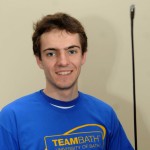 Sport / Event >
Fencing – epee
Date and Place of Birth >
Date Arrived at Team Bath > September 2011

Course of Study > Biology
Club > Wellington
Biography>
Chris is an epee fencer who is studying for a Biology degree at the University of Bath. He receives a Santander Sports Scholarship to help him achieve his sporting and academic goals.
At the start of October 2013 he was 24th in British Fencing's men's epee rankings.
In February 2013 Chris won the men's epee gold medal at the British Universities Colleges and Sports (BUCS) Individual Fencing Championships, an achievement that earned him the Team Bath Athlete of the Month award.
Headline Result >
Gold – epee – BUCS Individual Fencing Championships – Sheffield, February 2013