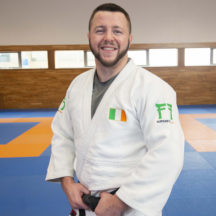 Event: Judo
Weight: -100kg
Date and Place of Birth: 13 March 1992, Reading, UK
Height: 184 cm
Coached by: Juergen Klinger
Date arrived at Team Bath: June 2010
Clubs: Team Bath, Pinewood Judo Club
Biography:
Team Bath's Ben Fletcher attained his first Dan at the age of 17 before moving from his native Reading to Team Bath where, under the guidance of Juergen Klinger, he became an Olympian for Team GB at Rio 2016.
Since then he has firmly established himself as one of the world's best judoka in the -100kg weight division, winning eight international medals – three of them gold. Now representing Ireland, Ben is well placed to qualify for the Tokyo Olympic Games.
Ben bases his training at the Sports Training Village where he is supported by Team Bath specialist staff including physiotherapists, strength and condition coaches and our sports massage team.He is the brother of another of Team Bath's talented judoka, Megan Fletcher.