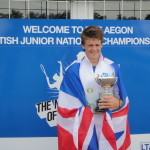 Sport/Event >
Team Bath Tennis Academy
Date and Place of Birth >
1995, London, UK
Height > 174 cm
Weight > 64kg
Coached by >
Jim Edgar / Ian MacDonald
Date Arrived at Team Bath >
September 2007
Biography >
Samm Butler became the new under-18 boys' singles champion at the British Junior National Tennis Championships, held at Nottingham Tennis Centre in August 2013.
Butler's victory in the under-18 boys' singles means the trophy returned to Bath for the fourth time in as many years following the successes of Scott Clayton, Toby Martin and Richard Gabb – all of whom are now playing professionally with the Team Bath MCTA senior squad.
Butler, seeded two, secured a straightforward final victory over Ryan Peniston, the top seed for the event, 6-2 6-3.
The new boys' under-18 champion, who has trained at Team Bath for six years and attends Ralph Allen School,  played at this year's Junior Wimbledon. He did not drop a set all week at Nottingham and thoroughly deserved the title.
Samm's past achievements include: ITF Doubles Winner – Bermuda 2011, ITF Singles SF – Kuwait 2011, ITF Singles SF x 2 Canada 2011, Final Denmark '10′ Tennis Europe Cat 3, Final Finland '09′ Tennis Europe cat 3, Final Macedonia '09′ Tennis, Europe cat 3, he won the County Closed two years running, reached National finals for U12 county Cup and the Wiltshire U14 County Cup Team.
Headline Result >
Singles champion – British Junior National Tennis Championships – Nottingham Tennis Centre – August 2013
Butler maintains Team Bath MCTA domination of boys' under-18s title