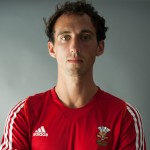 Sport: Hockey
Position: Midfielder
Date and Place of Birth: 13 June, 1989, Swindon
Height: 6 ft 2 inches
Weight: 78kg
Coached by: Jody Paul
Date Arrived at Team Bath: September 2006
Course of Study:
Advanced Apprentice in Sports Excellence
Length of Course: 2 years
Clubs: Marlborough, Reading Hockey Club, Team Bath Buccaneers
Representational honours: West of England under 14, under 15, under 17, Wales under 16s, under 18, full senior side, Great Britain under 21 trials, great Britain
Biography:
Born in Swindon with Welsh parents, University of Bath graduate Lewis started playing hockey at seven years old, following in the  footsteps of his father who played for Great Britain and Wales.
He  played at Marlborough hockey club as a junior, in the u11 and u13 sides where they became county champions several years running.
Lewis was selected for the West of England at U14 level but then was injured, suffering a fractured spine during one of his school games. He was out for six months and then came back and got into the West of England U15 squad where he played in Manchester.
That same year he was selected for the Wales U16 squad, where he made his international debut in Belgium playing three test matches.
As Lewis turned 17 he was selected for the Wales U18 squad and West of England U17 then played against England U18 and Scotland U18. During this Lewis got selected for the Great Britain U21 Trials.
Lewis was part of the Great Britain team that won bronze at the Youth Olympics and was named Hockey Wales player of the year in 2011
Career highlights:
Selected to represent Wales at Commonwealth Games, Glasgow, June 2014
Bronze – Youth Olympics, Great Britain, Singapore, August 2010
Selected to represent Great Britain at the Youth Olympics