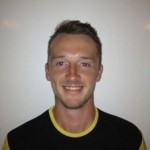 Title: Hockey Coach
Date and Place of Birth: 13 November 1990, Guildford, UK
Athletes Coached:
TBB Mens A 2012/13
Mens 2nd XI
Mens 4th XI
University of Bath Mens 2nd 2011/12
University of Bath Mens 4th XI 2011/12
TBB U14 A 2011/12
Biography:
Former EHL Premier League player for Surbiton HC currently playing for TBB 1st XI.
Tom played Ice Hockey from the age of five – 16, winning three National Championships along the way, before converting to Field Hockey at 16.
He played in the Premier Division of the England Hockey League with Surbiton HC before moving to Bath in 2010/11 to play for Team Bath Buccaneers Hockey Club.
Tom works at Kingswood School in Bath whilst coaching TBB A's Squad.
He is currently studying Coach Education and Sports Development at the University of Bath.
Career highlights:
TBB U14 A Regional champions and Avon league winner 2011/12
TBB 1st XI Conference West champions 2011/12