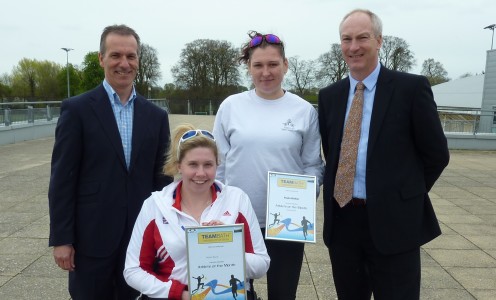 University of Bath students Louise Hunt and Chris Coles are the latest winners of Team Bath's Athlete of the Month awards, which are sponsored by Oakley and the Milsom Eye Company.
Wheelchair tennis player Louise collected her award for March following what she declared was the best month of her career to date.
Louise returned to the top-20 in the world after winning the women's singles title at the North East tournament in Sunderland and finishing runner-up at the Biel-Benn Indoors tournament in Switzerland.
The Sports Performance student is now heading off to South Africa to compete at the South African Open and the World Team Cup.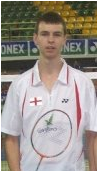 Badminton player Chris Coles (pictured), also a Sports Performance student, won his award after retaining his men's doubles title at the England National Under-19 Championships.  He also reached the semi-finals of the men's singles and mixed doubles. Unfortunately he couldn't collect his award this week as he is on international duty with England at the European Junior Championships.
Bobsleigh driver Paula Walker, winner of our women's award for February, was presented with her award. The Vancouver 2010 Winter Olympian was named winner of the February award after taking gold at the World Junior Championships, but she wasn't able to be at the February presentations.
It was another tough battle for the March awards, with tennis player Samantha Murray and swimmer Stacey Tadd in contention for the women's award and Ed Baldy (football), Michael Jamieson (swimming), Shaun Mitchell (judo) and Andrew Willis (swimming) all in the running for the men's award.
The latest awards were jointly presented by Stephen Baddeley, Director of Sport at the University of Bath, and Mark Attoe, Oakley's Regional Sales Manager.
Mark said: "Oakley are delighted to sponsor TeamBath's Athlete of the Month awards and it was great to meet Louise and Paula. I'd like to congratulate the latest winners on their awards and wish them every success in their future sporting careers."
Winners of the TeamBath Athlete of the Month awards receive framed certificate and a piece of Oakley eyewear from the Milsom Eye Company (formerly Vousden) of 20 Milsom Place, Bath. The Milsom Eye Company also offer a 15 per cent discount on Oakley eyewear to University of Bath students and staff.
For further information members of the media can contact the TeamBath press office at Matchtight Ltd on 01225 383518.