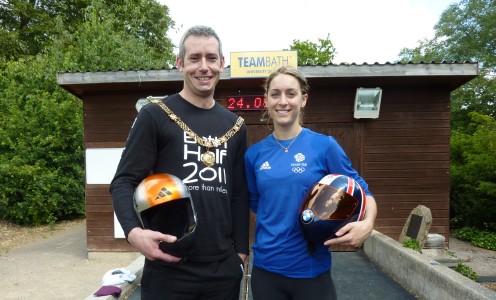 Outgoing Mayor of Bath, Shaun McGall teamed up with Amy Williams, Bath's Olympic Winter Games gold medallist, at a training session at the University of Bath.
The Mayor hosted a Civic Reception for Amy as she became the first woman Honorary Freeman of the City of Bath a year ago – a celebration that took place the same day that Shaun became Mayor.
And as one of his last acts as Mayor he attended one of Amy's training sessions on the push-start track at the Sports Training Village.
After Amy had shown him how it's done, the Mayor took the opportunity to have a couple of goes on the track himself, under Amy's careful guidance.
"It was really exciting and a little scary," he said. "Amy became an Honorary Freeman of the City the day I became Mayor, so it was fitting that I had the opportunity to watch one of her training sessions on my penultimate day as Mayor."
For further information please contact the TeamBath press office at Matchtight Ltd on 01225 383518.