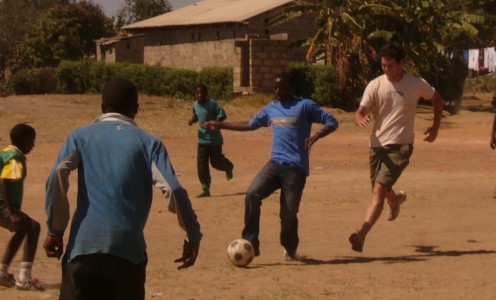 University of Bath students Jordan Kenny and Rebecca Cook are due to arrive in Lusaka on Sunday (12 June) to kick-start this year's IDEALS Zambia Project.
The IDEALS (International Development through Excellence and Leadership in Sport) Project, now in its seventh year, uses sport as a vehicle for social development throughout underprivileged areas of the Zambian capital of Lusaka.
Rebecca, a first year Coach Education and Sports Development student, will be on placement in Fountain of Hope, Kamwala an orphanage catering for street children
Jordan, also studying Coach Education and Sports Development, will be undertaking sports sessions at N'Gombe and Munali, two new placement sites for 2011.
The pair will be working with two of Zambia's leading Sport Non-Government Organisations, EduSport and SportInAction.
They, along with 10 other students from other Universities across Britain will be leading sessions in football, basketball, netball, volleyball as well as traditional British and Zambia games.
Alex Ridge, staff member in Department of Sports Development and Recreation will also be joining the group.
Applications are now open for University of Bath students wishing to take part in next year's IDEALS project. Please contact Sarah McMillan for more information on S.Mcmillan@bath.ac.uk
For further information members of the media can contact the Team Bath press office at Matchtight Ltd on 01225 383518.