Now available at the Sports Training Village Team Bath Gym.
Only £7.50 per 20 minute session with a personal trainer.
Available to members and non members.
Just book in at theTeam Bath Gym reception or contact us on 01225 383778 or
email Eloise Comer.
For a limited time only the Team Bath Gym has exclusive use of a top of the range Power plate.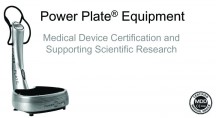 Vibration Technology gives you the same benefits as a 1 hour work out in just 20 minutes and has a whole host of extra health benefits as well.
For just £7.50 per session a personal Trainer will take you through a whole body routine designed specifically for your needs.
See what a Power Plate can do for you!
Power Plate and MDD Scientific Support document [PDF]
Lose weight
Reduce cellulite
Improve core stability
Strengthen and tone
Improve flexibility and circulation
Improve bone density
Offer ends 8 July 2011