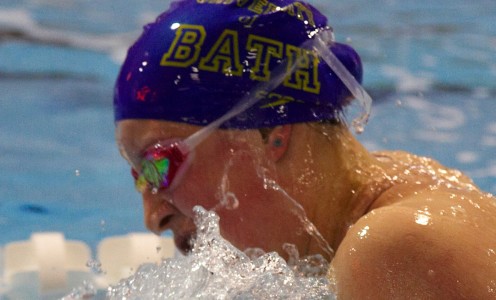 Two further Team Bath-based swimmers have achieved qualifying times to compete at next month's World Championships in China.
Stacey Tadd and Chris Walker-Hebborn both set qualifying times as they took gold on the second day of British Gas ASA National Championships in Sheffield last night (Wednesday).
It takes the total number of Team Bath-based swimmers to achieve qualifying times for the British team for the Worlds in Shanghai to six. The team will be announced by British Swimming after the Nationals.
University of Bath Swimming Club member Stacey Tadd did it in style, setting a new English record of 2:27.37 to win the women's 200m breaststroke.
"I'm just relieved to have won and posted that time," she said afterwards. "It's needed a lot of hard work, but I'm there and can enjoy it. It's an amazing feeling to make the time as a vital step on the road to London."
Chris Walker-Hebborn, a British Gas ITC Bath swimmer, swam a season's best of 1:57.20 to win gold in the men's 200m backstroke
"I've done what I needed and it feels very good," he said, "Everything has been going really well and it felt that way in the race.
"I had to go out hard as there was quality in that field but managed to keep it going right to the wall as I knew they'd come after me.
"I wanted the make the team so badly and it hurt a lot but the way I feel now is worth it," he said.
There was also a bronze medal in Sheffield last night for University of Bath Swimming Club member Jenny Oldham in the 50m backstroke final.
Last night's results mean Stacey Tadd and Chris Walker-Hebborn join fellow Team Bath-based swimmers Kris Gilchrist and Siobahn-Marie O'Connor in achieving qualifying times for the World Championships at the ASA Nationals. Michael Jamieson and Andrew Willis achieved qualifying times for Shanghai at the British Championships in March and are not competing at the ASA Nationals.
Anastasia Christoforou, also based at the University of Bath, has achieved a Cyprus qualifying time.
For further information please contact the Team Bath press office at Matchtight Ltd on 01225 383518.