Event > 8th European University Futsal Championships
Date > 17 – 24 July 2011
Results > 17th out of 24
Venue > Tampere Exhibition and Sports Centre, Tampere, Finalnd

The University of Bath represented British Futsal last week for the second time at the European University Futsal Championships after qualifying through the British University Futsal Championships back in March.
The University based side only managed to get to the competition taking place in Finland, Tampere after receiving financial support from the University of Bath Sports Association and the Team Bath Talented Athlete Scholarship Scheme which was greatly appreciated.
This money helped the team towards paying the entry fee as well as cover other tournament costs which with out would have meant the club would not have entered the competition.
For this support the club would like to extend it's thanks to the University of Bath Sports Association and Team Bath.
At the end of the week Bath finished 17th out of 24 of the best European University Futsal sides which was to their credit as the competition was particular tough once they learned the draw on Saturday evening.
Captain Dave Jennings attended the draw in the city centre of Tampere and saw his side paired with the Spanish team Malaga who Bath saw win this competition in 2009 and Georgian Champions, the University of Tbilisi.
These two teams both had professional players within their ranks who play Futsal for a living and were going to prove a tough task for the Bath players.
Group Game 1
University of Bath 1 – 8 University of Malaga (Spain)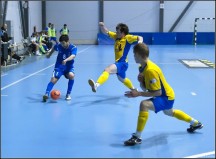 Team Bath played Spain first of all and the University of Malaga.
Bath knew they would be defending for large parts of this game against one of the tournaments favourites and did a sterling job to keep the score line down.
For large periods of play Lima the Bath Goal Keeper and his defenders were keeping things tight but two quick goals before half time saw Malaga take a 5-0 lead into the break.
The Spanish side's flair on the ball and guile even when pressurized made them a frightening opposition.
In the second half Bath rolled up their sleeves and contested a very good game of Futsal only losing 3-1 in this period with Ben Bourdin grabbing Bath's first goal of the competition with a soft header from a Rob Yilmaz pass.
Malaga were quality opponents that went onto finish runners up in this championship. The Spaniards were complimentary of Bath in defense and their opponents soon became friends.
Group Game 2
University of Bath 1 – 4 University of Tbilisi (Georgian Champions)
In their 2nd match Bath played another strong team, Tbilisi from Georgia who boasted two full internationals in their starting five.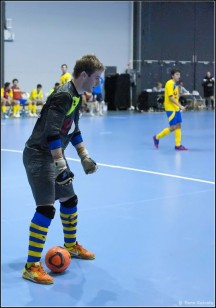 However, this did not phase Bath who set about their business positively.
The University of Bath had a tricky opening 10 minutes going behind 2-0.
However, for the next 20 minutes the game was even as Team Bath through Fynn Scheben got the game back to 2-1.
Grahame Gardiner almost made it 2-2 in the second half and Futsal as it so often does punishes teams for lapses in concentration.
The strong Georgians stepped things up at this point and in a four minute spell scored two more quick goals to make the final score 4-1.
At this level Bath were finding that long periods of good work were being undone in seconds as teams followed one goal by another.
Bath was very much in this game but the score line was a little harsh on them.
Play off – Game 3
University of Bath 1 – 3 University of Minho (Portuguese Champions)
With this tournament the first to be held with 24 mens teams it took a new format with an additional playoff match before the knock out stages began.
Paired with the group of death, Bath who finished 3rd in their group played 2nd in the adjacent group, Minho the Portuguese Champions and last years runners up.  This was Bath's last chance to make the top 16.
The boys started off in the worst possible fashion conceding after four seconds.
However, the team regrouped and began playing very well putting into practice new movements learnt in training the day before. This allowed the players more space and time on the ball. It showed as Ian Parkes and Sam Dorin both went close with shots.
Minho, gradually got themselves in the game and right on the stroke of half time made it 2-0. A killer blow to Bath who were looking strong themselves.

In the second half Team Bath started slow and went further behind. After a time out called by Coach Sion Kitson Bath rallied and Captain Jennings scored from a free kick to make it 3-1.
For the last five minutes Bath power played and were trying hard to get back into the match but time ran away from them.
This was a big step forward for the team as Minho who went onto finish 3rd in the championship for large parts of the game were frustrated by a Bath team who asserted themselves on this game well.
Bottom Half Quarter Final – Game 4
University of Bath 7 – 3 University of Orebro (Swedish Champions)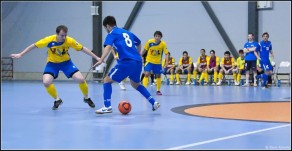 This was a cracking match played by Bath who ended up comfortable winners ensuring their first win of the tournament.
The Swedish team at times were blown away by a strong and creative Bath team.
Bath scored in the 1st minute through Mark Ingram who had an outstanding championship throughout. Then on four minutes the goal scoring machine Ian Parkes made it 2-0 beating the keeper down to his right.
Things got even better as Parkes scored his second of the game.
The Swedes were truly holding on to simply stay in the game before Scheben then got his 2nd of the tournament finishing off a fine flowing move. Somehow via an own goal and sloppy defending Sweden found themselves only 4-2 down at the break.
However, at the start of the 2nd half Bath again pushed with Parkes completing his hat trick and looked a threat every time he was near to goal.
Sweden did score one more but further goals from Dorin and Goal Keeper James Davies from his own half made the final score an impressive 7-3.
It was a pivotal game for Bath as it was the first they knew they would attack as much as they defended and they showed no signs of rustiness in front of goal.
Bottom Half Semi Final – Game 5
University of Bath 4 – 1 University of Magglingen (Swiss Champions)
Bath continued on from game four in sensational fashion against the Swiss champions going 1-0 up in the first five minutes through Robert Yilmaz.
Mark Ingram then added a 2nd goal a minute later as Bath were awesome in defense and controlled the game in attack.
The Swiss team ran out of ideas on the ball as every single Bath player from Lima in goal to Curdin Ott who never stopped running were in superb form.
Captain Jennings then made it 3-0 in the second half with a fine finish from 10 yards out before he got his 2nd of the game two minutes later.
The only sad point for Bath was when Switzerland scored a consolation goal in the last 30 seconds of the game which they did not deserve.
Bath played another exceptionally high quality match and were desperate to finish up as high as possible in this championship and knew they could win their last game against another tough team in Azerbaijan.
Bottom Half Final – Game 6
University of Bath 2 – 4 University FSSS (Azerbaijan Champions)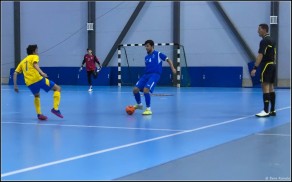 In their final game for the place of 16th Bath played a technically sound and strong Azerbaijan team who had two full internationals as well as the Assistant coach of the National Team as their coach.
In the first half Team Bath played some great attacking Futsal and on the counter attack and went into a 1-0 lead through Ian Parkes, his 4th of the competition.
The team had come a long way over the week and on the ball although tiring looked assured and had further chances through Yilmaz and Gardiner to make it 2-0.
However, in another two minute spell where Bath lost focus Azerbaijan took the initiative and punished Bath and move into a 3-1 lead. Out of nothing Bath felt vulnerable.
At half time Bath knew they had 20 minutes to work as hard as possible and get back into this game, and they did just that.
Jennings made it 3-2 on 28 minutes scoring from a tight angle. Bath then went close with an equalizer as Bourdin almost scored within his head again at the back post.
Azerbaijan still kep their strongest team on court as Bath moved forward.
In the last two minutes Bath once again went for broke as they power played in search of an equalizer to take the game to penalties.
It was an exciting finish but with 10 seconds to go the Azerbaijanis scored to make it 4-2 and win the match.
Bath came close to a 3rd straight win of the tournament but overall were happy with their 17th place finish after being handed a tough draw at the start. The team competed well in every game and put in some quality performances.
The team and players were a credit to themselves and the University of Bath. They now have a month break before preparation commences for the new season as they aim to win BUCS and qualify for the 9th European University Futsal Championships next year.
Team: Lima (GK), Jennings (C), Ott, Parkes, Dorin, Bourdin, Harris, Yilmaz, Davies (GK), Scheben, Ingram, Gardiner
Sion Kitson (Coach)