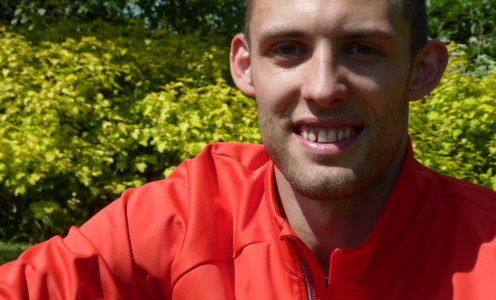 Six University of Bath-based athletes, including reigning Commonwealth and European champion hurdler Dai Greene, have been named in the Aviva Great Britain and Northern Ireland team to compete at the IAAF World Championships in South Korea.
Five athletes coached in Bath by Malcolm Arnold, UK Athletics National Events Coach – Hurdles, feature in the 67-strong team.
Dai Greene, who won 400m hurdles gold at last year's Commonwealth Games and European Championships, bids to add the World Championships title to his already impressive collection.
He is joined in the 400m by 19-year-old Jack Green, who is also coached by Arnold and recently won gold at the European Under-23 Championships.
Green, who makes his senior GB debut at the World Championships, faced an anxious wait to see if he would make the team after missing the National Championships with tonsillitis.
"I can't wait, this is what I've been aiming for," said Green, who combines training with Arnold with studying for a Sports Performance degree at the University of Bath.
"I think the tonsillitis may have been a blessing in disguise because it's allowed me to rest," he said. "I'm now completely recovered, I've been able to get some really good training in and I've topped everything up. I'm quite excited about it."
Green has slashed his pb from 50.49 seconds to 48.98 since he began training with Arnold in October. "It's made a real difference, but I feel there's still a lot more to come," he said.
Lawrence Clarke, who won 110m hurdles bronze at this year's European Under-23 Championships and at last year's Commonwealth Games, also features in the team, as does William Sharman, who took silver at last year's Commonwealths. The pair, both coached by Arnold, go in the 110m hurdles.
Clarke will make his senior outdoor debut for Great Britain in South Korea.
He said: "I'm really pleased to be going to the World Championships, I couldn't be happier.
"It's the only chance I have to get some experience before the Olympic Games. All the best people will be there," he added. "I'll have the opportunity to improve my personal best and run against the world record holder and Olympic medallists."
Eilidh Child, who is coached by Arnold and trains part-time at the University of Bath, goes in the women's 400m hurdles.
Greene and Green also feature in the men's 4x400m relay team, while Child is in the women's 4x400m relay team, where she is joined by Marilyn Okoro, a University of Bath French and Politics graduate, who also contests the 800m.
University of Bath Sports Performance student Danny Talbot also makes the GB team. Talbot, who is coached by Dan Cossins, is named in the 4x100m relay team, where he joined University of Bath Sport and Exercise Science graduate Craig Pickering.
The IAAF World Championships take place at Daegu in South Korea from 27 August through to 4 September.
For further information please contact Steve Ballinger in the Team Bath press office at Matchtight Ltd on 01225 383518.