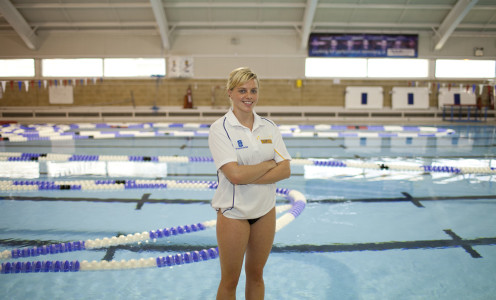 Student athletes and recent graduates from the University of Bath are representing Great Britain across a range of sports at the World University Games, which began in Shenzhen, China today (Friday).
Footballer Gary Warren, who has just graduated from the University with a Post Graduate Certificate of Education, was in the thick of the action on day one of the Games.
Warren, who is captaining the men's football team, scored the opening goal for Team GBR from the penalty spot as they beat Canada 2-1.
He is joined by Hector Mackie in the men's football squad, while Grace McAtty, Polly Wardle and Kayleigh Sage all feature in the women's squad.  University of Bath graduate Marc Canham is assistant coach of the British women's team.
"The boys are buzzing as that's what we wanted to do, to get off the competition with a win and that then sets you up for the rest of the tournament," said Warren after today's match. "We've now got to look forward to try and get another three points against Ghana and if we can do that then we set ourselves up to hopefully win the group."
Badminton player Chris Coles plays in both the men's singles and doubles at the Games for a Team GBR team that is coached by Pete Bush, the University of Bath's  head badminton coach.
University of Bath graduates Jan Gosiewski and Tom Reed contest the under-73kg and under-81kg weight divisions respectively in the judo competitions. They are joined by Team Bath judo player Megan Fletcher, who has recently graduated from Bath Spa University.
Swimmer Jess Dickons (pictured), a Sports Performance student, goes in the 100m and 200m butterfly, while Economics student Stephanie Cornish features in the GBR tennis team, which is coached by Eve Langley and managed by James Andell, both Team Bath Tennis Academy coaches.
Danny Talbot was due to contest the 200m in the athletics programme, but withdrew after being selected to run at the World Championships in South Korea, later this month.
University of Bath students and graduates who are representing Great Britain at the Games receive funding from the University's Elite Athlete Support Fund, which is kindly donated by the University Alumni.
Andy Hibbert, a senior teaching fellow in the University of Bath's Department of Education, is Team GBR's Deputy Chef de Mission at the Games.
He said he's confident in the team, but admits it is difficult to predict medals. "This is what makes these Games great in many ways because it will be very hard to predict. Some sports will be Olympic and world championship standard, when others sports will be somewhere else on that sport continuum, paired with the fact that you don't know who is going to be here."
For more information on the British team at the 2011 World University Games, please go to http://www.bucs.org.uk/sport.asp?section=14683&sectionTitle=World+University+Games+-+Summer+2011%2C+Shenzhen <http://www.bucs.org.uk/sport.asp?section=14683&amp;sectionTitle=World+University+Games+-+Summer+2011%2C+Shenzhen>
For further information about Team Bath please contact see the Team Bath website at www.teambath.com <http://www.teambath.com> or contact the press office at Matchtight Ltd on 01225 383518.