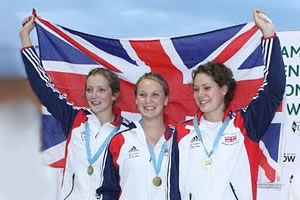 University of Bath student Freyja Prentice and graduates Kate French and Lydia Rosling are celebrating winning the first gold medal of the European Junior Championships in Poland.
The GB trio won the women's team relay gold at Drzonkow at yesterday's (Monday) opening day of the championships.
Prentice is currently studying for a degree in Biology at the University, while  French and Rosling are both Sports Performance gradautes.
The GB team beat a strong Hungarian team into second place.
Rosling said: "There were only five teams competing in the relay, but they were all really strong, so we knew it wasn't going to be easy."
The trio train at the Pentathlon GB High Performance Centre at the University of Bath.
Schedule
Monday 19 September: women's relay
Tuesday 20 September: men's relay
Wednesday 21 September: women's individual semi-finals
Thursday 22 September: men's individual semi-finals
Friday 23 September: women's individual final
Saturday 24 September: men's individual final
Sunday 25 September: mixed relay
Picture:  The victorious GB team (l to r) Freyja Prentice, Lydia Rosling & Kate French. Photo:  Adam Pankowski