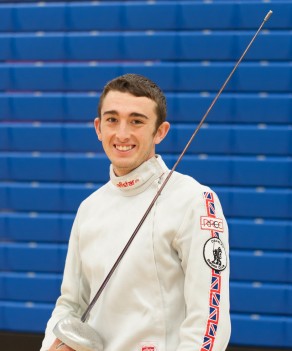 Sport/Event: Fencing – Epee
Date Arrived at Team Bath: September 2013
Course of Study: Sport and Exercise Science (Masters)
Club: Redhill and Reigate
Occupation: Post-graduate student
Biography:
Masters student Tom is currently ranked number one in the UK. He rose to this position after becoming British champion in early 2017.
Tom started fencing when he was 11 and, in the ensuing 12 years, he has represented Great Britain and Wales at major international events, won multiple national titles and received two Commonwealth medals.
He is supported by a Santander Scholarship.
Why Tom is part of the Team Bath Athlete Forum:
Tom says: "The forum enables the athletes at the university to have a voice, raising concerns to senior management about anything that impacts our training. Having representatives from each sport ensures all athletes have a chance to encourage change, in which numerous actions have been made as a result of discussions held during the forum meetings.