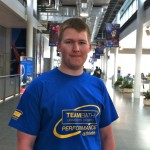 Sport/Event:
Shooting (target, small-bore pistol events)
Date and Place of Birth:
1 July 1993, Reading
Coached by:
Tom Redhead
Date Arrived at Team Bath:
September 2012
Course of Study:
MEng (hons) Integrated Mechanical & Electrical Engineering (graduate)
Clubs:
Centurion T.S.C
Occupation:
Engineering
Biography:
After firing his way to a brilliant bronze in the 25m rapid fire event at Glasgow 2014, Kristian will represent Team England for a second time at the Gold Coast 2018 Commonwealth Games.
He also won Great Britain's first gold medal at the 2013 Australian Youth Olympic Festival, again in the 25m rapid fire event, and represented his country at the 2015 World University Games in South Korea.
His clear talent for target shooting was discovered almost by accident. As a youngster he rode horses and joined his local pony club. It was there that he was introduced to shooting and – once he out-grew his pony – bought a pistol and took up the sport of target shooting instead.
When not studying or training, Kristian enjoys other sports including cross-country skiing, badminton and swimming.
Kristian, who graduated from his Integrated Mechanical & Electrical Engineering course in July 2017, was supported by an Ivor Powell Scholarship, the Talented Athlete Scholarship Scheme (TASS) and the Team Bath Dual Career programme during his five years of studies at the University of Bath, which including designing an autonomous drone intended to deliver humanitarian aid following natural disasters.
He is now receiving a Support Service Grant from the University, which allows him to access the gym and sport science facilities at the Sports Training Village during the week. He also receives strength and conditioning coaching from Harri Cizmic.
Career highlights:
Bronze – 25m rapid fire pistol, Commonwealth Games, Glasgow, Scotland, July 2014
Shot personal best and qualified for final in second place at Commonwealth Games, Glasgow, Scotland, 2014
Selected for England at Commonwealth Games, Glasgow, Scotland, 2014
Winner – Universities Championship at British Open Airgun Championship, March 2014
Gold – Australian Youth Olympic Festival, January, 2013
Bronze – Australian Youth Olympic Festival, January, 2013
Gold – International Shooting Competition, Hannover, Germany, April 2013, 25m Rapid Fire Pistol (also new British Junior Record)
New Senior Men's British Record in 25m Rapid Fire Pistol, 2013