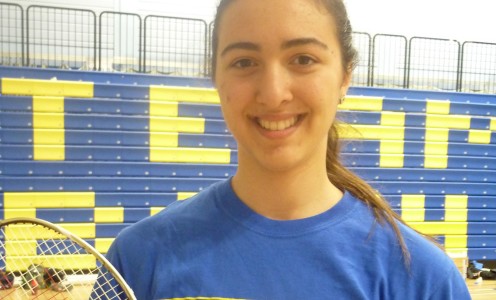 Egyptian badminton number one Hadia Hosny El Said is combining studying for a Masters at the University of Bath with bidding for a place at the London 2012 Olympic Games.
The 23-year-old made a piece of history in 2008 when she became the first Egyptian badminton player to compete at an Olympic Games.
She is now training at the University of Bath high performance badminton centre with the goal of making 2012 her second Olympics – something she is combining with studying for an MSc in Medical Biosciences at the University's Department of Biology and Biochemistry.
The University of Bath was recently named The Sunday Times University of the Year 2011/2.
Hadia, who is ranked at 118 in the world in women's singles, needs to become the top ranked African player in the world rankings of 29 April 2012 to secure a place at the Games as of right.
She is currently the third ranked African player behind two South Africans – Kerry-Lee Harrington at 101 and Stacey Doubell at 113.
Hadia just missed automatic qualification for Beijing as the third African player in the rankings lists in 2008, but was promoted from the reserve list 13 days before the start of the Games when another player dropped out.
That meant she made a piece of history by becoming both the first Egyptian and the first Arabic badminton player to compete at an Olympic Games.
Despite the late call-up, she won her opening match against Mexico's Deyanira Angulo before losing her next contest against Bulgaria's world number six Petya Nedelcheva.
"I didn't really have the chance to prepare for Beijing because I qualified from the waiting list 13 days before the Games," she said. "I was lucky to get to the Games last time I want to qualify properly this time."
Hadia looked at other UK universities where she could combine her academic and sporting activities, but in the end she took the advice of former British Olympian Richard Vaughan. Vaughan used to train at the University of Bath and manages the World Badminton Federation's Road to London Africa Project.
She is now coached at Bath by former international Pete Bush, the head badminton coach at the University of Bath, who also coached Vaughan.
"I wanted to do my Masters and train as well. Richard told me to come to Bath because it was so strong academically as well as in badminton. He said Pete would look after me," she said. "My tutor, Dr Momna Hejmadi, has been really helpful as well, I really like it here and I think I've made the right choice.
"I live on campus, so that makes it really easy to get to lectures and to train. The training is really good and I get to practice with lots of other players."
Dr Richard Hooley, Head of Biology & Biochemistry, said: "I'm delighted that Hadia chose to enrole in our very popular new MSc progamme. Bath is an ideal environment for students to realise their academic and sporting goals."
Dr Momna Hejmadi, her course tutor, added: "'Hadia chose to come to Bath on our MSc Medical Biosciences programme, despite being offered scholarships from other UK universities. She has been very impressive in maintaining high academic standards in parallel with her intensive training commitments."
Pete Bush, head badminton coach at the University of Bath, said: "It's great to have Hadia training with us and we're delighted that she chose to combine training with her studies at the University of Bath."
Hadia is supported at the University of Bath by a Jeff Trendell Scholarship – donated by a graduate of the University and his family, which supports student athletes to fulfil both their sporting and academic potential.   She will feature in some of the University's British Universities Colleges and Sports  (BUCS) competitions.
Hadia's campaign to reach her second Olympic Games would receive a big boost if she performs well at the next African Championships,which take place in Cairo in March.
In 2010 Hadia became the first Egyptian player to win the women's singles title at the African Championships when she took the title in Uganda, but she lost in the quarter-finals at this year's championships in Morocco.
In October she won the women's doubles and won bronze in the women's singles at the Ethiopian International in Addis Ababa.
A talented all-rounder, Hadia also competed in national rhythmic gymnastics competitions in Egypt. She graduated with a degree in Pharmacy from Ain Shams University in Cairo.
The University of Bath has a strong background in the sport of badminton, with some of the country's top players having combining training with studying at the University.
Mariana Agathangelou and Heather Olver, both Coach Education and Sports Development graduates, trained at the University before moving to Badminton England's National Badminton Centre in Milton Keynes. The pair joined forces to win the women's doubles bronzes at the European Championships last year.
Chris Coles, 2011 men's doubles European Junior Champion, is among the current crop of players training at the University.
The University of Bath is The Sunday Times 'University of the Year' 2011/2012.
For further information members of the media can contact the Team Bath press office at Matchtight Ltd on 01225 383518.