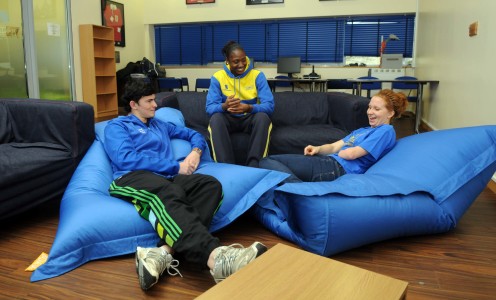 A new chill out lounge for senior international levels athletes to relax in has opened its doors at the Sports Training Village.
The athletes' lounge alongside the Sports Café is open to some of the top performance athletes training at the University of Bath.
It is kitted ou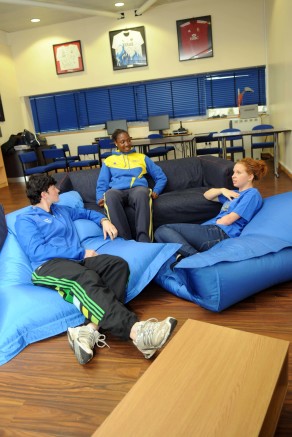 t with things to help athletes relax between their training sessions, including comfy sofas, bean bags, a couple of computer games consoles, an iPod docking station and a television.
"Performance athletes train hard and it's important that they also get the opportunity to rest, relax and recharge their batteries when they need to between training sessions," said Stephen Baddeley, Director of Sport at the University of Bath. "This is the latest part of a comprehensive package for athletes, which already includes excellent facilities and support staff."
The project has been overseen by Rachael Hares, Talented Athlete Support Officer at the University of Bath.
Members of the Team Bath Athletes' Forum, which is chaired by Olympic gold medallist Jason Gardener, will be asked what else they would like to see in the room for their downtime.
"We're expecting to stock the lounge with some books and possibly some board games," she said. "We didn't want to just tell athletes what they could have there, so we're asking them what else they might find useful."
Performance athletes based at the University of Bath have an impressive track record competing on the international stage.
The University of Bath is The Sunday Times 'University of the Year' 2011/2012.
For further information members of the media can contact the Team Bath press office at Matchtight Ltd on 01225 383518.