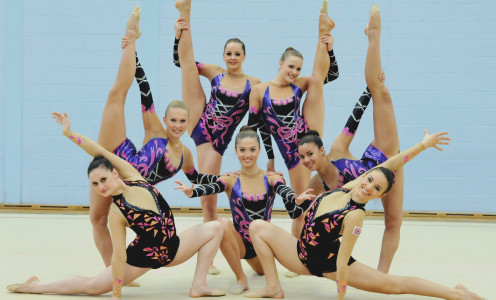 Britain's rhythmic gymnastics group bid to achieve the London 2012 qualifying standard at the Visa International Gymnastics competition from Monday to Wednesday (16 to 18 January).
The group have been finalising their preparations at the University of Bath to compete at test event at the North Greenwich Arena, which is the London 2012 gymnastics venue.
The group have been training together at the University since January last year with the goal of achieving the 2012 qualifying standard.
They need to attain a combined score of 45.223 for the two disciplines – the balls and the hoops & ribbons – to  achieve the standard.
If they are selected by the British Olympic Association to represent Team GB at 2012 they will be the first group to British rhythmic gymnastics group to compete at an Olympic Games.
The seven-strong group have just returned from a training stint in Gibraltar to finalise their preparations ahead of the event.
They are training on a special semi-sprung mat installed in the main sports hall at the Sports Training Village that is similar to the one they will perform on at the test event.
The group is Annie Bartlett, Frankie Fox, Georgina Cassar, Jade Faulkner Lynne Hutchison, Louisa Pouli and Rachel Smith.
Coach Sarah Moon said: "We're all really excited and looking forward to the competition. I'm sure it will be a challenging few days but it's also the opportunity of a lifetime."
The group rhythmic gymnastics competitions take place on Monday, Tuesday and Wednesday (16 to 18 January) next week at the North Greenwich Arena.
Eight international groups are taking part in the competition.