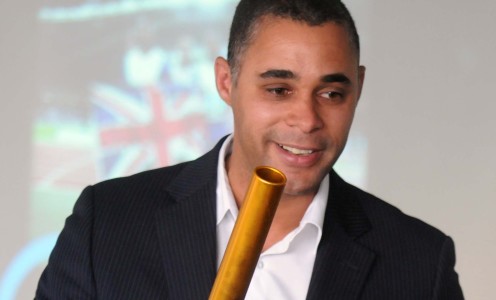 University staff took advantage of a free offer to try new sporting activities at the Sports Training Village on Friday 27 January's opening Gold Rush event of the year.
The Staff Gold Rush was held to celebrate six months to go to the London 2012 Olympic Games Opening Ceremony.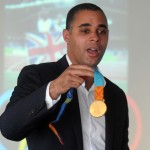 It included an opportunity to try out a wide range of activities from bobsleigh on the push-start track to X-biking and from massage to netball.
Jason Gardener, the Bath Bullet, gave two talks on 'Chasing the Dream' in which he described how he fulfilled his lifetime ambition by winning gold with the GB 4x100m relay team at the Athens 2004 Olympic Games.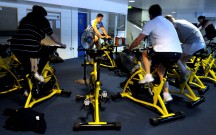 We also threw open the doors to the Team Bath Gym for free and gave staff the opportunity to have a free swim with a swimming coach on hand to offer advice on technique.
A range of free fitness classes were on offer as well as an opportunity to try a free physiotherapy sports massage session.
And staff also had the opportunity to take part in a Gold Rush Challenge, made up of a netball shooting contest, boccia, badminton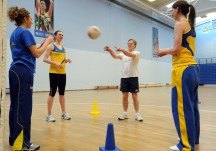 and a Sports Training Village sports personality quiz. Some of Team Bath's netballers were on hand to offer advice.
Paul Reddish, a Technician in the Physics Department, emerged as the winner and receives a six-month Gold Membership.
"It was brilliant to be able to try some different things, I really enjoyed it," said Paul, who also had a go at the X-biking. "I'll be doing that at least once a week now," he said.
Julian Prior, an E-Learning Development Officer at the University, also had a go at the Gold Rush Challenge.  "It was good fun," he said. "It's really good for staff to have the opportunity to try out new sports and to have Team Bath staff there to help out."
One of the most popular events of the day was the opportunity to have a go on the bobsleigh push-start track. Those taking part included Debi Holland, Team Bath's Website Manager. She said: "It was utterly brilliant, I absolutely loved it and I hope to have another go one day."
Our next Gold Rush day is a Corporate Charity Challenge taking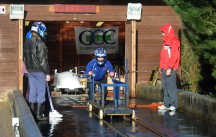 place on Friday 27 April.
And that will be followed by a Gold Rush Open Day on
Saturday 23 June.