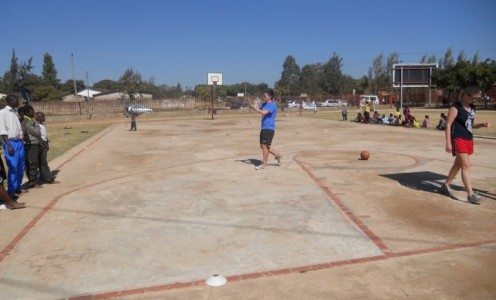 Second year BA Coach Education & Sports Development student Jordan Kenny has successfully landed an international development placement with UK Sport & the Wallace Group Universities over the summer of 2012. Below Jordan shares his love and dedication towards the project that has given him so much;
"During my time in Zambia last summer, the vast array of sporting, cultural, lifestyle and personal experiences I was a part of were something of a revolution to me, changing the dynamics of the way I view the world and interact with it around me.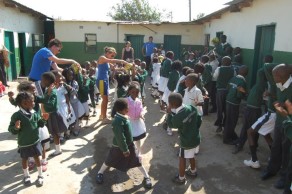 The IDEALS Project in Zambia is a UK Sport and Wallace University Group led project that engages over 40 students from around the UK each year during the summer months, I took part in 2011. Having delivered a range of sports and activities, as well as educational themes and infrastructure development the drive to go back was unreal; something a team leader role presented.
As a team member in 2011 I represented the University of Bath, alongside my fellow students; being dedicated to particular communities each and every day whilst I was in Lusaka, the capital, and delivering these projects in schools and community groups. When the opportunity arose to continue this legacy, it was a no-brainer what I was going to do.
The team leader role takes ultimate responsibility for the on-the -ground running of the project in Zambia, from ensuring all the  students are settled in placement, to making up the numbers in netball  games!
The key task of the two team leaders each year is split between sport and media; I will be moving between both.
This summer, alongside a fellow former IDEALS student who will be solely focusing on basketball development, I will be responsible for the media profile of the project as well as netball development in Zambia. This means extensive travel through the country, but meeting some of the best and brightest volunteer coaches and officials around, and for four months not only working alongside them, but with the best student leaders from around the UK.
The task continues to scare and excite me; representing UK Sport internationally through IDEALS is a huge honour, and although the task is enormous, every moment is incredible.
Returning to Zambia is a privilege and not a right, the people accept you for who you are and through this role I am not there to evoke change, but to build upon the fantastic work currently undertaken and build for the future.
Using sport as a tool for exchange, relationships and cohesion not  only unites students and the Zambian people, but aims to tackle  inequalities in lifestyle that people face up to, a challenge that is  truly unimaginable."
The IDEALS project is an excellent opportunity to build on your current coaching skills and gain valuable work / volunteer experience needed for the future.
To become involved or to find out more information please contact Sarah McMillan sm342@bath.ac.uk.