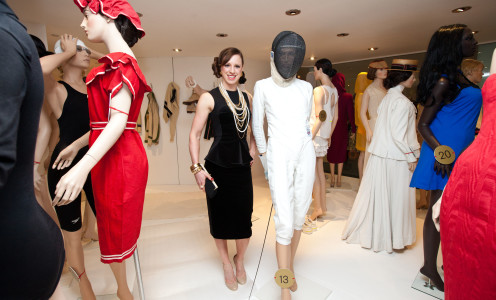 Olympic silver medal winning modern pentathlete Heather Fell took a break from her build-up to the 2012 season to open a Sport and Fashion Exhibition at Bath and North East Somerset Council's Fashion Museum.
The Beijing 2008 Olympian and former world number one was asked to perform the honours at the exhibition at Bath's historic Assembly Rooms.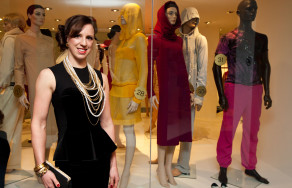 Heather is currently ranked number eight in the world and is preparing for the first World Cup of the year in the USA in early March. She trains at the Pentathlon GB High Performance Centre at the University of Bath and is attempting to make London 2012 her second successive Olympic Games.
She wore a Stella McCartney dress as she joined dignitaries from Bath and North East Somerset and the worlds of sport and fashion to open the exhibition.
As Britain approaches 2012, the Sport and Fashion exhibition traces how historic sportswear has influenced the creations of contemporary designers.
It features 65 ensembles, with something for everyone – from the sports enthusiast to the casual follower of fashion or those with a passing interest in popular culture.
Exhibits include historic skiing and tobogganing outfits; such as the red, white andblue suit that Bath's gold medal-winning skeleton slider Amy Williams wore at the 2010 Olympic Winter Games – alongside up-to-the-minute fashion pieces like a gold and silver body suit by designer Pam Hogg, who also designs second skin stage wear for the singer Jessie J.
The Sport and Fashion exhibition is open throughout 2012. The Fashion Museum isopen daily from 10.30am to 4pm (exit 5pm). For more information visit www.fashionmuseum.co.uk or call 01225 477789.
Photos: Fashion Museum, Bath & North East Somerset Council. Photographer: Freia Turland