Sports People of Bath
Last week saw a sensational set of results with our Wednesday teams recording 28 wins, four losses and one draw. These results saw us jump back to 22 points above Leeds Met in third place of the BUCS table with 1838 points.
The Team of the Week was the Football Men's 2's following their 3-2 win over Southampton who are 2nd in their league.
The result has given Bath a nine point lead at the top of the table.
The result was made even sweeter given team manager and SA Exec Chair Stu Bolton managed to leave their kit in Bath and they were 2-0 down at half time.
An honourable mention goes to the Netball 3's for their 27-24 victory over top of the table UWE 1's. The 3's had only won one match previously this season and given UWE beat the Bath 2's 48-30 last week it was a remarkable performance and result.
Beyond this every single 1st team that was in action recorded a win. A sensational week of results to get us back into full flow after the break for Christmas and exams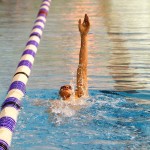 .
This week also saw the Swimming team in action at the Long Course Championships, finishing in 2nd place.
Congratulations to BUCS champions Calum Jarvis (200 Freestyle) and Jenny Oldham (50 Back).
Once the results have been processed they will offer a big boost to our overall BUCS points total.
This weeks Match of the Week is the Lacrosse Men's 1's taking on Plymouth at 1pm on the Medical Pitch. Plymouth currently top the table, with Bath six points behind with a game in hand.
Success on Wednesday will see our guys in serious contention for the title.
In Intra-murals, last week saw the Honey Badgers from Quantock winning the Dodgeball tournament and lifting their halls off the bottom of the table.
This week we have Futsal going on in the Founders Hall on Saturday from 5pm-8pm.
Anyone can enter, you only have to declare a halls if you want the points to count towards the totals.
To enter e-mail 3thirty@bath.ac.uk
This week's quote of the week comes from Wayne Gretzky, Ice Hockey legend and leading point scorer in NHL history.
"You miss 100% of the shots you don't take."
Play Proud,
Chris Clements
VP Sport
View all the past weekly reports at the Students British Universities and Colleges Sport web page.