Britain's rhythmic gymnastics group say they are pleased their bid to secure nomination to compete at the London 2012 Olympic Games is going to be considered at an independent appeal.
Sport Resolutions will consider the appeal on Wednesday 29 February. In the meantime the group continue to train at their University of Bath training base.
If the appeal is successful it is understood British Gymnastics will recommend the British Olympic Association take up the host nation place for a group to compete at London 2012. It would be the first time Great Britain has had representation in the group competition at an OlympicGames.
The group went to the test event with the firm belief that they needed to achieve a set score during the three days of the competition to meet the 2012 qualifying standard.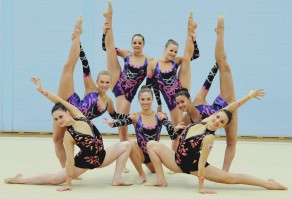 After the second day of competition they were told only the opening two days counted. They went on to comfortably exceed the score on the third day.
"We're looking forward to the appeal," said coach Sarah Moon. "The girls put an incredible amount of effort into preparing for the test event and they were really disappointed to be told they weren't going to the Olympics.
"We firmly believe that they achieved the qualification score as set down in the selection policy and we hope common sense will prevail."
The group have been training full-time at the University of Bath for the last six months with the goal of competing at London 2012.
They continue to train full-time and are currently preparing to compete at the European Championships in Russia in May.
For further information please contact the Team Bath press office at Matchtight Ltd on 01225 383518 or 07768 902313, or me email at press@matchtight.co.uk
You can also find out more about Team Bath at www.teambath.com , follow us on Facebook at www.facebook.com/teambath or on Twitter at https://twitter.com/#!/teambath
The University of Bath is The Sunday Times University of the Year 2011/12.