Fixture: Team Bath Buccaneers ladies compete at the regional round of the EH Cup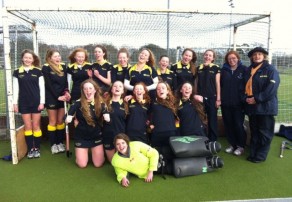 Date: Sunday 4 March 2012
Score:  See scores below against Havant, Maidenhead and Oxford
Venue: Bournemouth
Buccaneers U16 Girls win West play-offs to qualify for the National Finals at Cannock on 31 March / 1 April.
The under 16 girls travelled to Bournemouth to compete in the regional round of the EH Cup.
The first game was against Havant in torrential conditions.
The game started fairly evenly, with both teams having a fair share of the possession. However it was Buccs who scored first, the ball being put across the face of the goal for Ellie Lyne to finish on the far post.
At the other end, some great diving saves from Nicole New in goal kept the girls in the lead. A further goal from Katie Holdoway put Buccs 2-0 up.
Havant managed to score midway through the second half and continued to apply the pressure. But great defensive work from the back four of Katie Braithwaite, Molly Buxton, Eleanor Gallegos and Jenny Dinwoodie and excellent fight from the
rest of the team meant Havant could not convert again.
Final score, Buccs 2 – Havant 1
After drying out considerably the girls faced Maidenhead. Buccs started slowly with the only goal of the half coming from a short corner with a good strike from Livy Wills allowing Jenny Dinwoodie to tap it in on the near post.
After half time the girls really picked up the pace and started to play well as a team.
The second goal came soon after half time when Harriet Gallegos well placed push deflected off a defenders foot and into the goal.
Buccs then scored two more short corners, one through Livy Wills powerful strike and second top D strike from Susie Barnes.
Final score Buccs 4 – Maidenhead 0
Buccs entered their final game against Oxford Hawks knowing that a win or a draw would send them through to the national finals.
Oxford started brightly, winning an early corner and troubling the Buccs defence. However, three quick first half goals from Katie Holdoway calmed the girls and they started to play excellently as a team.
A further second half goal from Clio McKenna, set up brilliantly by Jemima Piceathly secured the win but the girls did not get complacent and continued to play quality hockey until the very in.
The final score of Buccs 4 – Oxford 0 sent them through to the national finals in Cannock at the end of March.
The girls were a credit to themselves and to the club, playing some excellent hockey throughout the day.
Well done to all named above plus Lucia Heseltine, Katie Humphrey and Bryony Robertson.