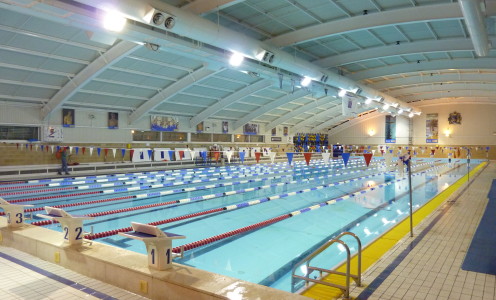 China is set to base 25 top swimmers at the University of Bath for three weeks before this summer's Olympic Games in London.
A delegation from the country's sports and swimming federations visited the University this week to conclude the arrangements and to sign a contract with Professor Dame Glynis Breakwell, Vice-Chancellor of the University of Bath.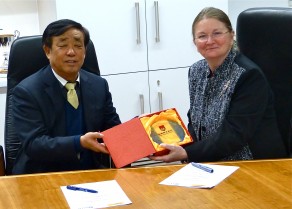 Professor Dame Breakwell said: "We already have strong links with China in terms of academic research and collaboration, so we are delighted to extend this partnership into the areas of sports performance and sport science.
"We have over a thousand Chinese students currently studying at Bath and I'm sure they will be very proud to learn that their University will be hosting the Olympic swimming team ahead of the Games in London."
The Chinese delegation at the University included the Vice-Chairman of the China Swimming Association (CSA), Mr Shang, who signed the contract with the University as well as  Yuan Haoran, Director of the CSA, Mr Yao, their head coach, Mr Xu their team manager and Lu Yifan, Director of SportsScience for the CSA.
Stephen Baddeley, Director of Sport at the University of Bath, hosted the Chinese visitors as they toured the University's world-leading swim facilities which include a 50m pool plus sport science back-up areas for physiology, physiotherapy, sports massage as well as video-analysis capabilities.
He said: "China is one of sport's global super-powers and, as such, demand world-leading facilities and services to support their athletes as they prepare for the 2012 Games. We are thrilled they have chosen the University of Bath as their pre-Games training base."
The Chinese delegation will arrive on July 2 and depart for the Olympic Village on July 22. For most of the time the Chinese swimmers will be training alongside the Bath-based British Olympic swimmers as both groups make their final preparations for the Games.
China will join Malaysia who have begun using the University of Bath as a regular training base since early 2010 in the lead up to large European-based tournaments as well as for the Olympic Games.
Sports Training Village staff will need to be on their toes once the Olympic Games close on August 9 to turn round the facilities to host the ParalympicsGB camp, featuring ten sports and more than 200 team members, in the run up to the Paralympic Games.
Pictures available from:  press@matchtight.co.uk
For further information please contact the Team Bath press office at Matchtight Ltd on 01225 383518 or by email at press@matchtight.co.uk <mailto:press@matchtight.co.uk>
You can also find out more about Team Bath at www.teambath.com , follow us on Facebook or on Twitter.
The University of Bath is The Sunday Times University of the Year 2011/12.