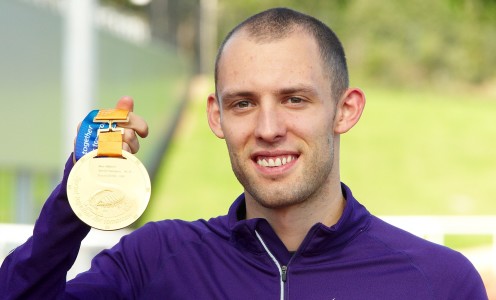 Hurdler Dai Greene will arrive at London 2012 with something of an impressive reputation.
Just a few years ago Greene might have had a chance of sneaking under the radar at a major championships.
But all that changed when the Welshman transferred to train under the expert eye of Malcolm Arnold, UK Athletics National Events Coach Hurdles, and the man that guided John Aki-Bua, Colin Jackson and Jason Gardener to such great things.
Greene moved to train with Arnold at the University of Bath three years ago and the results soon followed.
First he took gold at the European Championships in Barcelona in July 2010 and then within three months the Welshman had added the Commonwealth gold medal in Delhi to his collection.
And last year he produced another impressive performance to add the World Championships crown to trophy cabinet, becoming one of only two British gold medallists at Daegu in South Korea.
So just what does the prospect of competing at a home Olympics mean to the usually unflappable Greene?
"I've won everything else that athletics has to offer, but winning the gold medal at London would be a dream come true," said the 25-year-old.
"It's the biggest competition you can have as an athlete and for me it couldn't come at a better time for me," he added. "I've got a unique opportunity here and I'll be doing everything I can to make sure I stay injury free and I¹m in the best shape possible."
Aside from the Olympic gold, one of the few accolades to have eluded Greene to date is the British record. His best of 47.88 seconds, set in Croatia in 2010, saw him leapfrog David Hemery to go second in the all-time UK rankings.
But the British record of 47.82 still belongs Kriss Akabusi with the time he set to win bronze at the Barcelona Olympic Games in 1992. The men's final at London 2012 takes place on 6 August ­ 20 years to the day that Akabusi set that landmark.
So, once selected for the 2012 Olympics, the 6 August could truly be a day of destiny for Dai.
Greene trains at the University of Bath with a talented group of athletes that include Tasha Danvers, Eilidh Child, Jack Green, William Sharman, Lawrence Clarke and Andy Pozzi.
And he said he's revelling in training at the Sports Training Village, where the bulk of sports facilities and expert support staff can be found at one location.
"In order to be a world class athletes you have to have world class support, it makes life a lot easier to have top quality people to work with. I've got everything I need on my doorstep here and I'm enjoying every second of it."
This is the first in a series of occasional features that will appear here from time to time as Bath gets behind the athletes who are living and/or training in our city and who are set to pursue their dreams in London this summer.
Follow Team Bath Olympic and Paralympics on our dedicated Olympic & Paralympic web page.